Scotland's papers: 'Hospital blunders' and 'minister for arrogance'
The Sunday Post has reported that medical professionals in Scotland are urging a quick assessment of the use of unregulated assistants who are being hired to replace medical doctors. New statistics indicate that these assistants have been involved in "serious mishaps" while working in Scottish hospitals. The British Medical Association has demanded an immediate stop to the recruitment of physician associates (PA) due to concerns about patient safety. These PAs undergo a two-year course and then are authorized to care for patients, diagnose illnesses, and function like doctors. However, medical organizations are now expressing apprehension regarding the absence of regulatory measures for these assistants.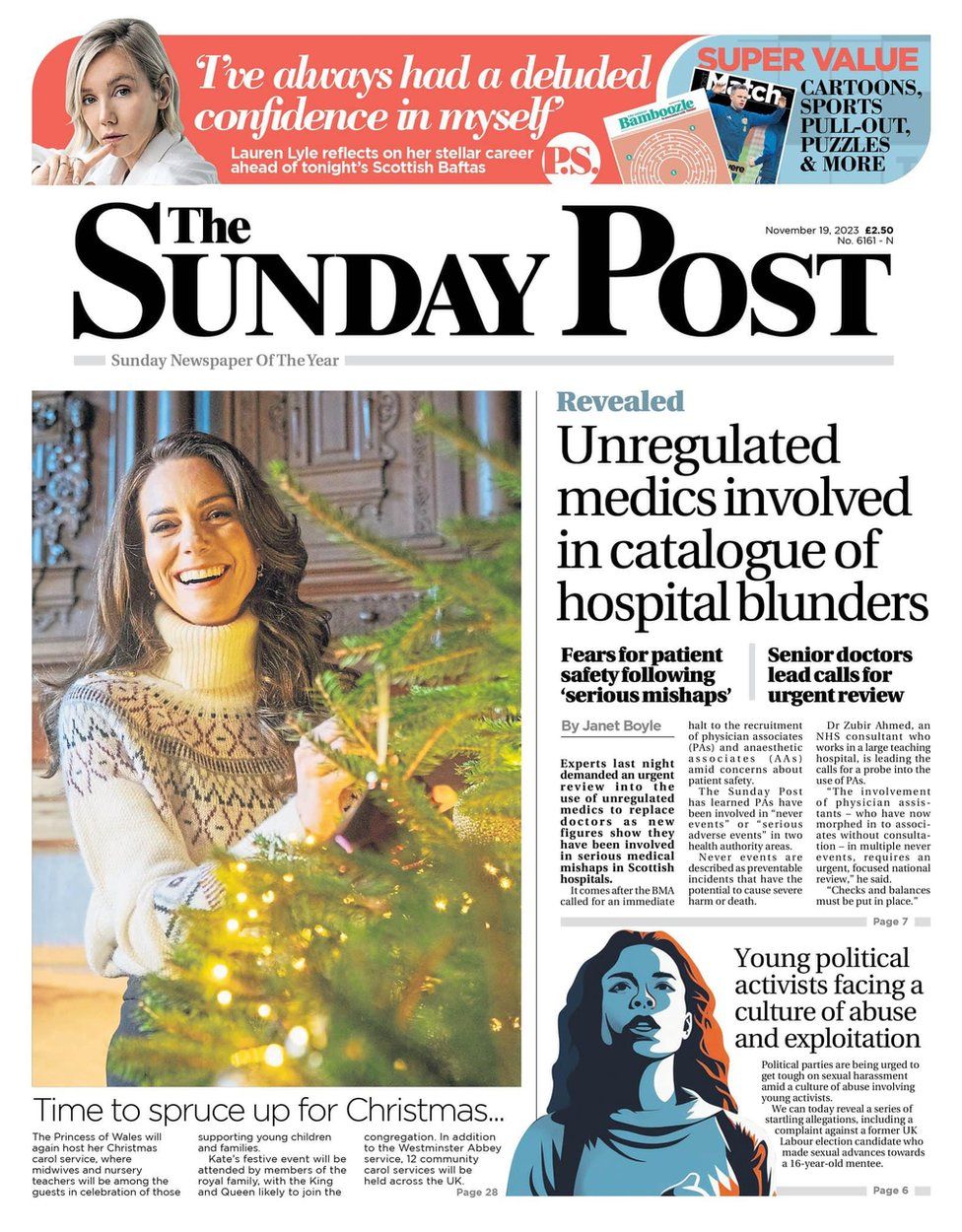 The Scottish Mail on Sunday has reported that Michael Matheson has been criticized as "arrogant" for dismissing demands for him to step down following the expensive £11,000 iPad bill incurred by his sons during a family trip to Morocco last Christmas. The article suggests that the health secretary might face a vote of no confidence at the Holyrood for allegedly covering up the roaming charges. The chairman of the Scottish Conservatives, Craig Hoy, has alleged that Mr. Matheson's refusal to address questions posed by the Scottish Mail on Sunday indicates a hidden motive.
The main story in The Sunday Mail is about a person who is suspected of committing rape. They were not found guilty because they were given a special exemption from prosecution. Despite being investigated by police and charged for a serious sexual offense against a 17-year-old, the person was granted an exemption because they were young. The criminal proceedings were cancelled as a result. Recently, the victim, who was willing to testify in court after a review of the entire policy, was informed that there will be no more legal action taken against the now 18-year-old suspected rapist. The victim expressed that this was comparable to being raped again.
The Scottish Sunday Express states that immigration is the leading news story, indicating that six individuals suspected of being terrorists and intending to attack either the British government or public services, have entered the United Kingdom via a small vessel that sailed across the English Channel.
The front page of the Sunday Telegraph discusses matters relating to migrants. According to the newspaper, Rishi Sunak will temporarily relocate Home Office staff to Rwanda where they will provide training and assist with casework. This move will allow the government to proceed with its intended plan to deport some asylum seekers to the African country. Along with this news, the publication features a photo of Nigel Farage covered in mud, while completing his first challenge on the 23rd season of the popular reality TV show, I'm A Celebrity... Get Me Out Of Here!
The Scottish Sun on Sunday has published a picture alongside their top story that suggests there may be a confrontation between Nigel Farage and a woman who could pose a threat to him in a TV show. To create some controversy, the newspaper scanned through the social media of The Guardian's critic, Grace Dent. They discovered some unpleasant comments she made when Mr. Farage had a plane crash in 2010.
According to Scotland on Sunday, Anas Sarwar is expected to weaken his stance on calling for an immediate end to the conflict in Gaza to prevent a clash with Labour leader, Sir Keir Starmer. The Scottish Labour leader might also encounter a significant uprising because nearly half of his MSP group supported a Scottish Green proposal that requires a ceasefire, as stated in the article.
The top story in The Sunday National is about a fresh ferry course that joins Rosyth and Dunkirk, which the creator claims will bring significant changes to Scotland. Derek Sloan, leader of Ptarmigan Shipping, conveyed his thoughts that this route could possibly be a catalyst, giving rise to more freight lines to connect Germany and Scandinavia.
The Herald on Sunday has reported that government officials are preparing to postpone the implementation of a requirement for homeowners to swap their fossil fuel boilers with eco-friendly alternatives like heat pumps. The original plan was to initiate the phase-out in approximately 13 months, but it seems that this timeline is likely to be abandoned.
The BBC cannot be held accountable for the information found on websites outside of their own domain.
Read more