UK jobless rate rises to 5.1% for first time since 2016 – business live
Rolling coverage of the latest economic and financial news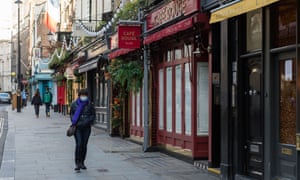 Key events
Show
7.48am

GMT

07:48

ONS: Labour market may be stabilising

7.30am

GMT

07:30

Introduction: UK unemployment rate rises to 5.1%
Live feed
Show
8.22am GMT08:22
Average pay grew strongly at the end of last year, with basic pay (excluding bonuses) rising by 4.1% per year. Total pay jumped by 4.7%.
Normally that would be welcome news for workers -- but it's partly because poorly-paid staff are more likely to have lost their jobs during the pandemic. That 'compositional effect' pushes average pay up.
Pay packets were also boosted by bonuses which were delayed from earlier in 2020.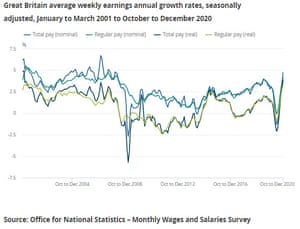 The finance and business services sector saw the highest estimated growth in total pay, at 6.8%. All sectors saw positive growth, although construction (1.9%) and manufacturing (1.5%) had smaller growth than the other sectors.
Underlying pay growth is probably around 3%, the ONS suggests.
8.11am GMT08:11
This chart shows how UK payrolls (a good measure of employment) tumbled last year, before rising slightly in December and January: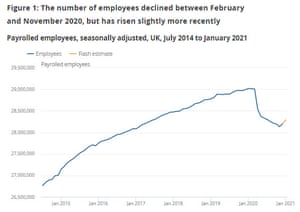 7.48am GMT07:48
ONS: Labour market may be stabilising
Jonathan Athow, the UK's deputy national statistician, says there are "tentative" signs that the UK's labour market was stabilising at the end of last year, given the rise in company payrolls in the last two months: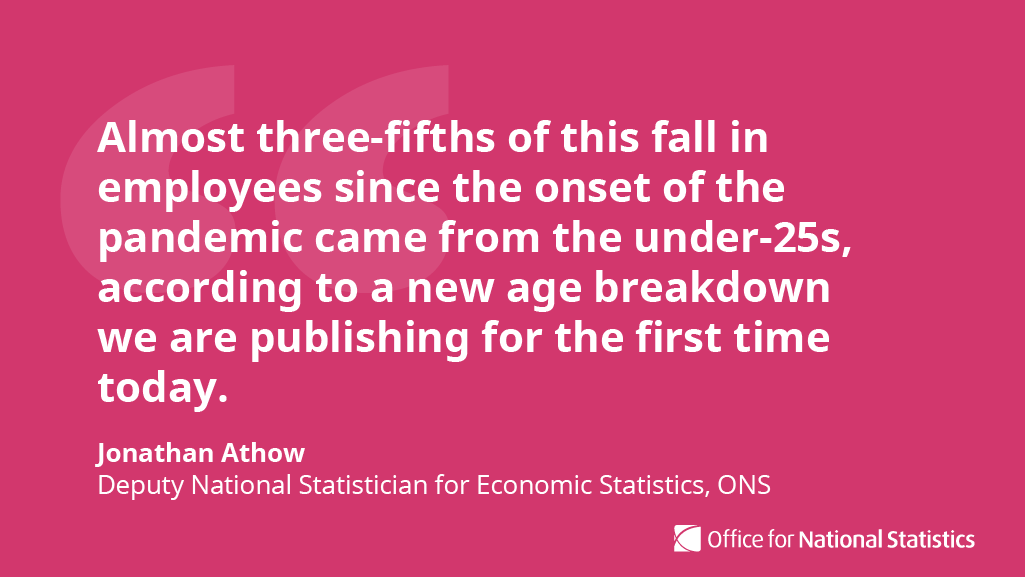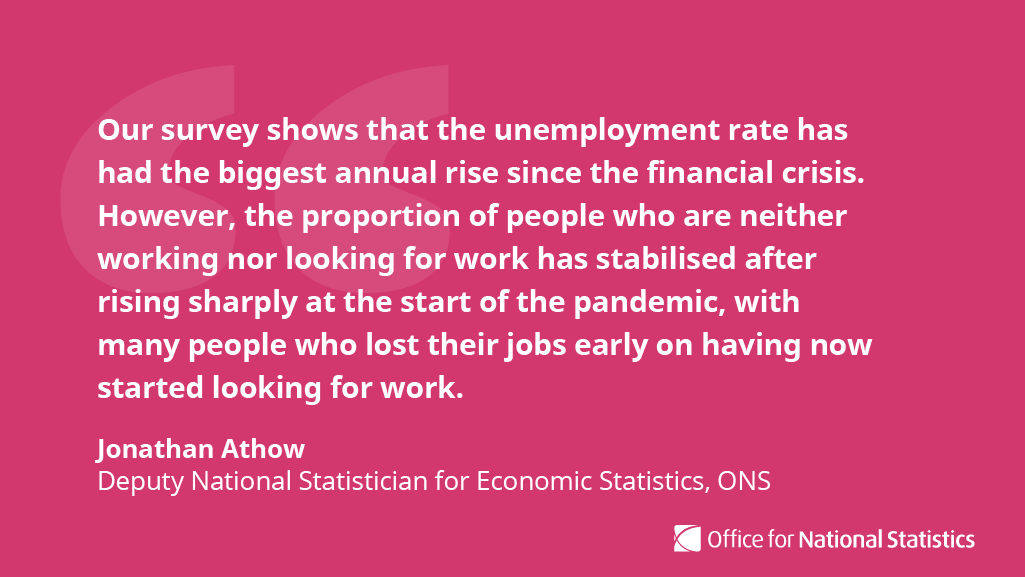 Updated at 7.50am GMT
7.30am GMT07:30
Introduction: UK unemployment rate rises to 5.1%
Good morning, and welcome to our rolling coverage of the world economy, the financial markets, the eurozone and business. Britain's unemployment rate has risen to its highest level since early 2016, as the Covid-19 pandemic continues to hit the labour market - particularly younger workers.
But, there are also signs that the jobs market is stabilising, with a small increase in the number of payrolled employees in December and January, and a pick-up in vacancies.
The UK jobless rate rose to 5.1% in the last three months of 2020, according to the latest official labour market figures. That's up from 5% a month earlier -- and just 3.8% at the end of 2019.
It's the highest in almost five years, but the jobless rate is still lower than during the financial crisis a decade ago (with the furlough scheme cushioning the impact of the lockdown.).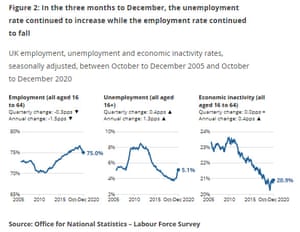 The Office for National Statistics reports that since February 2020, the number of payroll employees has fallen by 726,000 -- showing the scale of last year's job losses.
Encouragingly, though, 83,000 more people were in payrolled employment in January than in December, the second monthly increase in a row after the November national lockdown.
The number of vacancies also rose at the end of 2020, but there are still only three-quarters as many opportunities as a year ago.
Employees at the start of their careers have born the brunt of the pandemic job losses, as the ONS says:
New analysis by age band shows that the 18 to 24 years age group has seen the greatest decrease in payrolled employees since February 2020.
The ONS also reports that, in October to December 2020, there were 32.39 million people aged 16 years and over in employment, 541,000 fewer than a year earlier. This was the largest annual decrease since May to July 2009.
Here are the key points from the report:
In January 2021, 83,000 more people were in payrolled employment when compared with December 2020; this is the second consecutive monthly increase.
In January 2021, 726,000 fewer people were in payrolled employment when compared with February 2020.
The UK employment rate, in the three months to December 2020, was estimated at 75.0%, 1.5 percentage points lower than a year earlier and 0.3 percentage points lower than the previous quarter.
The UK unemployment rate, in the three months to December 2020, was estimated at 5.1%, 1.3 percentage points higher than a year earlier and 0.4 percentage points higher than the previous quarter.
The redundancy rate, in the three months to December 2020, was estimated at 12.3 people per thousand employees.
The Claimant Count increased in January 2021, to 2.6 million; this includes both those working with low income or hours, and those who are not working.
There were an estimated 599,000 vacancies in the UK in November 2020 to January 2021; this is 211,000 fewer than a year ago and 64,000 more than the previous quarter.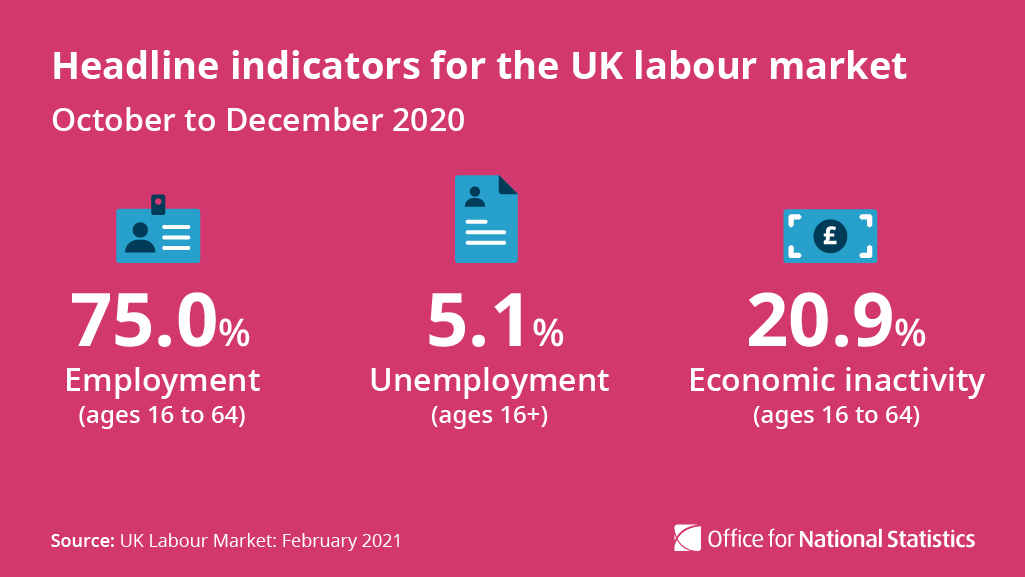 More reaction to follow...
Also coming up
Worries about rising inflation and predictions of a commodities super-cycle are driving the markets right now, with copper prices at their highest level in over nine years.
America's top banker, US Federal Reserve chair Jerome Powell, will testify to Congress later today. He's expected to tell US Senate banking committee that the Fed remains committed to its stimulus programme. But, with US government bond yields rising, could the Fed be forced to tighten policy sooner than planned?
The agenda
7am GMT: UK unemployment report for the three months to December
10am GMT: Eurozone inflation report for January
11am GMT: CBI distributive trades survey of UK retail in February
2pm GMT: US house price index for December
3pm GMT: US Federal Reserve chair Jerome Powell testifies to Congress
Updated at 7.58am GMT