Tottenham vs Brentford result: Five things we learned as Jose Mourinho's side head for Carabao Cup final
Tottenham 2-0 Brentford: Spurs will face either Manchester United or Manchester City in the final
Moussa Sissoko headed in the opening goal after a powerful run into the box, but Brentford responded well to falling behind.
Ivan Toney had a close-range would-be equaliser ruled out after a VAR review noted he was marginally offside, while the forward also saw a shot blocked inside the six-yard box by Serge Aurier. 
But Son Heung-min ran through with 20 minutes left to finish in clinical style and effectively end the game, with Josh Dasilva seeing red for an ugly challenge on Pierre-Emile Hojbjerg late on in the match. Here are five things we learned from the game on Tuesday night.
Watch more
Close to a year ago now, when the talk was of whether football would return at all after the first national lockdown in England, the watchword thrown around by pundits, club spokespeople and players was "integrity".
Independent Football Newsletter Get the latest football headlines direct to your inbox twice a week
Independent Football Newsletter Get the latest football headlines direct to your inbox twice a week
Fast forward to 2021 and the third national lockdown, it appears to be more a case of inventing new ways to be different rather than maintaining as much as possible the same.
In this semi-final we had 90 minutes instead of two legs, as had long been agreed, but that was only the start. There was VAR in effect for this match - which had an impact in a goal being disallowed and a red card being issued - when it hadn't been part of the competition previously, there was to be extra time when there hadn't in previous rounds and there were five subs as an increase from three.
That's all without considering the final itself, of course, which has been pushed back two months later than usual  - though that attempt is at least admirable in that it's in the hope of having fans back.
Don't let Spurs score first
Even before this match, the way to tackle Spurs and hope to win was fairly evident: Jose Mourinho's team have become exemplary in holding onto a lead, so it's wise to score first if at all possible.
Following this fixture, Tottenham are now unbeaten in all 18 games when scoring first this season, winning 14 of them - more evidence of not just Mourinho's ability to control a lead in pragmatic fashion when required, but of his team's improving mentality.
They are electric going forward, but they are committed, determined and organised at the back.
Mourinho's semi-final record
Across his tenures with Chelsea, Manchester United and now Tottenham, Mourinho has quite the habit in this competition: every time he has reached the semi-finals of the League Cup, he has gone on to win it.
In 2005, 2007, 2015 and 2017 he lifted this trophy, but Spurs are well over a decade without any kind of silverware whatsoever, so maybe fifth time around it'll mean just that little bit more.
The possibility is still there to continue that trend, with Spurs reaching the final yet again, and he'll now watch on to see if his side will need to beat former club United, or current holders Manchester City.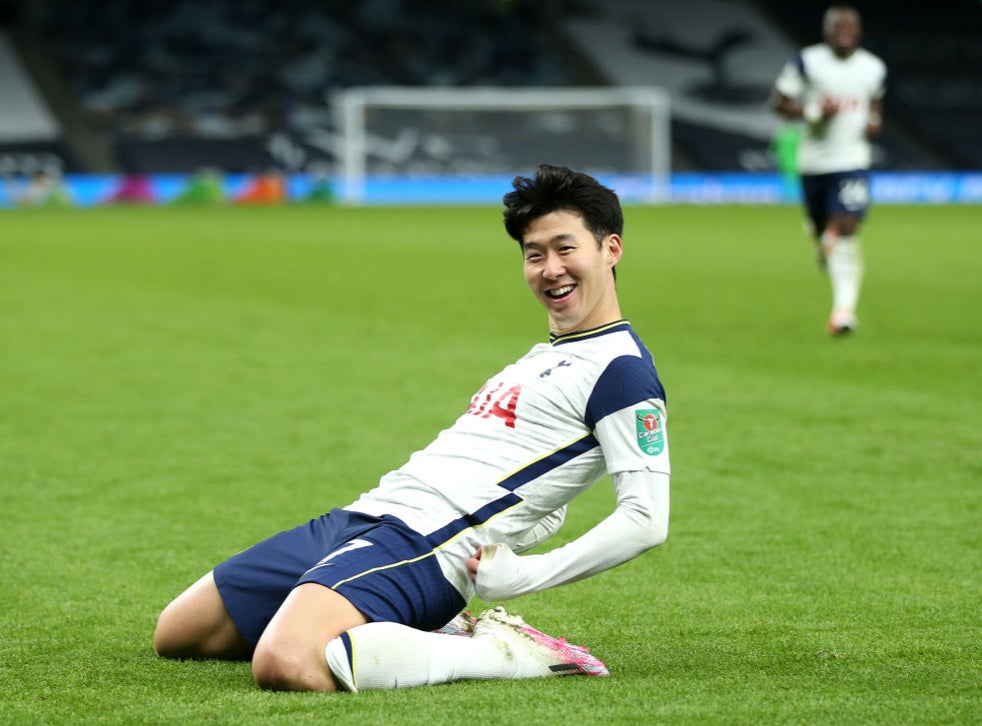 Brentford won't be terribly disappointed by losing, though they might be with the performance level, which was rather tame overall and didn't trouble Spurs as much as they would have hoped.
They remain firmly in the hunt for a promotion spot from the Championship, sat fourth at present but only two points off Swansea in second, and that will be Thomas Frank's message to his players after this game: the opportunity to test themselves more regularly against top-class opponents is within reach.
Bouncing back from this evening is important, with a trip to fifth-place Reading on the horizon, but especially after they got so close to the Premier League last season.
Several players on the day showed they can compete with top-flight players, and that's still the overall objective for the season.
Ending the long wait for silverware
The last time Tottenham won a trophy was indeed this competition, back in 2008.
It's a long overdue wait for supporters, and certainly for some of the calibre of players at the club, starting with striker Harry Kane but certainly not restricted to him.
Mourinho, they know, is entirely capable and confident of winning trophies by whatever means necessary and the questions over his managerial style and appointment will all feel extremely vindicated if he can beat one Manchester club or the other and bring home some silverware at last.
Spurs could yet achieve far more this season, with a return to the Champions League and progress in Europe still at the top of the list too, but this particular possibility is the one the fans will want in the short term - adding to the trophy cabinet for the first time in well over a decade.