Scientists not consulted on Eat Out to Help Out - Sir Patrick Vallance
The picture comes from Crown Copyright. Rewrite: This image is sourced from Crown Copyright. Blog Original: It's commonly acknowledged that people from different cultures may experience language barriers when communicating with one another. However, what's less commonly acknowledged is that language barriers can also exist between people who speak the same language. Dialects, colloquialisms, and even speed of speech can all affect understanding between individuals. Rewrite: It is widely recognized that people from diverse cultures may face difficulties in communicating due to language barriers. However, what is rarely acknowledged is that communication barriers can also happen between individuals speaking the same language. Variations in dialects, slang, and pace of speech can all contribute to misunderstanding between two people.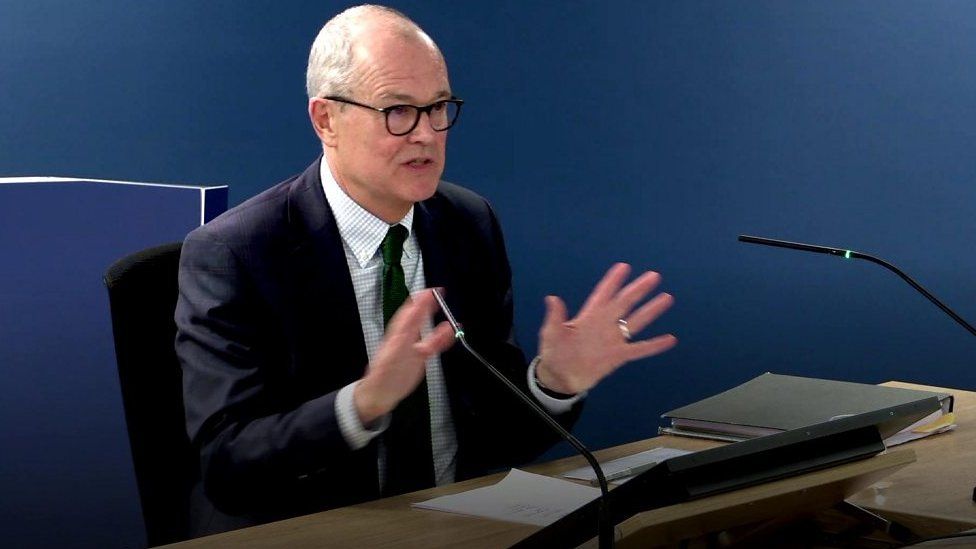 Written by Nick Triggle and Jim Reed
According to Sir Patrick Vallance, the Eat Out to Help Out initiative by Rishi Sunak was not known to scientists until it was officially announced.
During the Covid inquiry, Sir Patrick, who was previously the government's chief scientific adviser, was testifying regarding the significant decisions made during the pandemic.
He mentioned that it was evident that the hospitality program would enhance the possibility of virus transmission.
He additionally stated that the previous Prime Minister, Boris Johnson, had been deceived by certain scientific information.
According to him, the initial lockdown during the commencement of the pandemic should have been enforced a week earlier than it actually was.
He expressed his disapproval of the "absence of guidance" during the approach to the second nationwide lockdown in the fall of 2020.
Patrick, who has the title of Sir, underwent questioning for approximately five hours on Monday regarding choices made in and around Downing Street amid the outbreak. Portions of his journal were recited aloud.
During an interview, he was questioned regarding the Eat out to Help Out initiative. The plan was created by former chancellor Mr. Sunak to stimulate the hospitality industry in the summer of 2020 following the lockdown by extending a price reduction to customers at cafes and restaurants.
During the reading of Mr. Sunak's statement, it was mentioned that he claimed to have received no warnings or objections regarding the program in question during the summer of 2020.
According to Sir Patrick, he and other officials in the Cabinet Office were not aware of the policy prior to its announcement. They were not involved in its development.
He stated: "I believe it was clear to everybody that this would inevitably result in an elevated risk of transmission, and I think ministers were aware of this."
When questioned about Mr. Sunak's comprehension of the potential hazards, Sir Patrick declared that he couldn't recollect which conferences he participated in.
"I would be extremely taken aback if there was any minister who failed to comprehend the potential hazards associated with these openings."
Sir Patrick voiced his disapproval towards certain contributions from the Treasury in the decisions made regarding the pandemic.
He wrote in his personal journal in October 2021 that a few financial forecasts lacked any substantiation, were not transparent, purely biased and inaccurate.
In response to the comments he made, he stated that they were most likely uttered during the twilight hours when he was feeling agitated. Nevertheless, he is convinced that there existed a "disproportion" in the level of openness with regards to economic counsel and scientific guidance throughout the course of the pandemic.
He stated that the guidance was frequently unpopular, and advisors may need to put in additional effort to ensure that scientific evidence and recommendations are being correctly acknowledged.
In a journal entry, it was noted that during a meeting centered around economics, Mr. Sunak said "the key is managing the scientists, not the virus" without realizing that Sir Chris Whitty was present in the same room.
In his journals, he expressed strong disapproval of the political choices made leading up to the second nationwide shutdown in autumn of 2020.
According to his diary entry, Mr Johnson was feeling agitated about the idea of implementing a second lockdown by the middle of October.
According to him, the person suggested that they should unleash their actions without hesitation, because the majority of those who perished have already exceeded their allotted span of existence.
According to snippets from the diary, it appears that Mr Johnson had a change of heart towards the end of October and started supporting the idea of imposing stricter measures, mostly because the figures were extremely concerning.
On 28 October, Sir Patrick wrote a blog expressing his thoughts about the PM. He mentioned that the PM is not reliable and his behavior is unstable. He added that the PM's decision-making ability is weak, which makes his leadership qualities indecisive.
According to Sir Patrick's diary, Dominic Cummings, the special adviser of Mr Johnson, claimed that Rishi Sunak, who was the Chancellor of the Exchequer at the time, believed that allowing people to die is acceptable.
During that period, Sir Patrick expressed his opinion by saying, "I sense a total absence of guidance."
Sir Patrick reflected on his recording of what he deemed to be a disorganized day.
In a blog post created in May 2020 during the early stages of the pandemic, it was mentioned that Mr. Johnson seemed to be confused about some of the scientific details. The author used the term "bamboozled" to describe this confusion.
According to him, it was quite challenging to ensure that the former head of government comprehended the meaning behind a chart displaying specific information.
However, he mentions that Mr. Johnson was not the only global leader who had difficulty comprehending intricate data.
Sir Patrick confessed that he has had moments where he held a different opinion from Prof Sir Chris Whitty, the leading medical adviser in the UK, regarding imposing limitations. He also admitted that there were instances when Sir Chris' stance was correct.
Nonetheless, he affirmed that his conviction that the lockdown in March 2020 was implemented too tardily - a view which contradicts that of Sir Chris - has now been justified.
According to him, it was a situation where we ought to have commenced the actions earlier. He suggested that the protocols should have begun seven days in advance.
Sir Patrick mentioned that Sir Chris was responsible for public health matters, which is why he was more concerned about how restrictions would affect people's health. Discussing this with him while working in the government proved to be beneficial and supportive.
Sir Patrick mentioned that additional errors occurred when particular regions, such as Leicester and Liverpool, were subjected to amplified protocols later in the year.
"The usual inclination is to keep the limitations as narrow as feasible - however, that approach proves ineffective as the neighboring regions are quickly inundated," he stated.
Sir Patrick noted that in October 2020, during the implementation of the tier system for regional restrictions, it was evident that all Members of Parliament advocated for their respective areas to be exempted from higher tiers that imposed more stringent regulations for gathering and commencing business activities.
According to Sir Patrick, Matt Hancock had a tendency to make unsupported claims that he expressed too enthusiastically and prematurely without any proof to support them. As a result, he would have to retract or backtrack from those claims a few days afterward.
I am unsure if the behavior I witnessed was due to excessive excitement or intentional actions. However, I believe that most of it was caused by heightened enthusiasm. He made statements that caught me off guard because I was aware that there was insufficient evidence to support them.
When questioned if this indicated that he "uttered statements that were untrue," Sir Patrick responded affirmatively with a "yes."
Read more