Covid inquiry: What has Sir Patrick Vallance said in his diaries?
Source of the image, Getty Images
On Monday, Sir Patrick Vallance, who was the top scientific adviser for the government at the beginning of the COVID-19 pandemic, appeared before the public inquiry.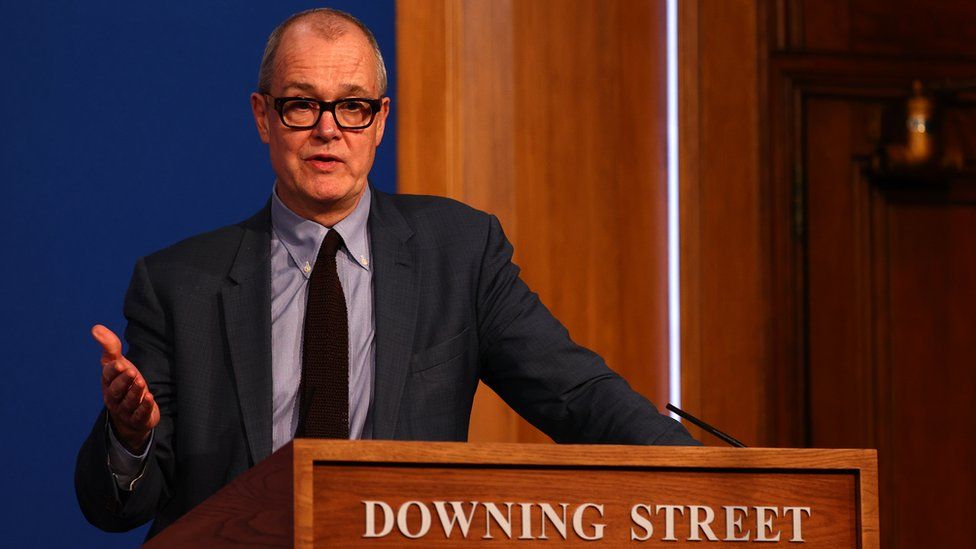 Every night, Sir Patrick wrote down his ideas by hand. He claimed that it was a way to free his mind and concentrate on the tasks ahead.
During the initial phase of the investigation, he referred to the documents as a "brain dump" and contended that they should not be released entirely as they were not meant for the general public.
All of those written records have been delivered to the legal experts who are investigating, and nearly 25 brief pieces have been shared publicly during the interrogation of other individuals.
As far as we're aware, the initial account from his personal journals dates back to May 2020. It specifically hones in on the topic of whether or not to ease up on lockdown measures.
The task of being the head of the Scientific Advisory Group for Emergencies, commonly known as Sage, was assigned to Sir Patrick. This committee comprises mostly of scientists belonging to the academic sector, and their duty is to provide guidance to ministers regarding the Covid situation.
In his journal, he expressed his worries regarding the government's insistence on "following the science".
In a different blog post, he expresses concern that scientists are being utilized as "human buffers".
The author expresses that the government officials attempt to rely on scientific data to make decisions instead of relying on their own judgments.
I'm concerned that there's a sense of 'Sage is problematic' brewing in Downing Street.
"An individual has rewritten the scientific guidance, claiming it as the ultimate version. However, they have merely selected particular parts to suit their narrative. It is indeed remarkable."
Dominic Cummings, the special advisor of Boris Johnson, is currently holding a press conference at the Rose garden in Downing Street. This comes in response to recent reports by The Guardian and Mirror newspapers stating that he had taken a trip to Barnard Castle, located close to Durham, amidst the ongoing lockdown.
Sir Patrick stated that the PM appears to be very confident and eager to make everything available faster and with greater intensity than what we believe is necessary.
Looking to move away from the DC mess (discovered to have traveled to Durham - obviously breaking the rules).
This is definitely a reason to be concerned. The Cabinet is projecting a positive attitude and appearing relaxed, which is quite concerning.
The beginning of the Cabinet session was meandering and unusual.
Sir Patrick wrote in his personal diaries that he and Professor Sir Chris Whitty aren't fans of participating in a news conference every day, mainly because they're aware that they'll be questioned about Mr. Cummings.
According to Sir Patrick, officials in charge of communication, namely Lee Cain, James Slack, and civil servant Martin Reynolds, attempted to persuade them, but ultimately did not succeed.
Chris and I were not enthusiastic about doing the press conference.
Completely influenced by politics and overshadowed by Washington DC.
We attempted to avoid it by indicating that the day was inappropriate for introducing fresh actions and that it would weaken the trust people have in us.
As the school year came to an end on 12 July, Sir Patrick jotted down in his diary about the call to proceed to step 4 of the roadmap in order to lift lockdown restrictions. This particular step abolished all legal constraints on social gatherings and life events.
Around this time, he is becoming increasingly irritated by the erratic nature of Mr. Johnson's decision-making.
The Prime Minister decided not to make the significant announcement and is currently being more careful.
Simon Case is living each day as it comes. The Prime Minister is unreliable (just like he was at the start).
19. The journal of Sir Patrick Vallance shows signs of annoyance towards the leader of the United Kingdom following Mr. Johnson's recuperation from his severe bout with the coronavirus.
According to Sir Patrick, Mr Johnson is becoming more convinced that the economy must stay open because the effects of Covid are primarily impacting the elderly population.
He reported: "The Prime Minister's WhatsApp group started after the Prime Minister came across an article in the Financial Times stating that the infection fatality rate (IFR) is 0.04%."
The explanation of IFR in relation to age suggests that it is likely to be between 0.4% and 1% overall.
The person is fixated on older individuals recognizing the inevitable and allowing the younger generation to take charge of their lives and the economy's progress.
"That was a really crazy conversation."
At this juncture, Sage's experts in the field of science have been advocating for stricter regulations due to the significant increase in Covid cases.
Recent regulations (which include limiting gatherings to a maximum of six people and the implementation of a tiered system) have been introduced, but a complete lockdown will not be in effect until the 5th of November.
"The meeting at No.10 went horribly wrong..."
The Prime Minister is referencing old-fashioned approaches rather than those currently proposed.
Maybe we need to consider taking a different method and using alternative principles.
Definitely, this passes in cycles just like other events in nature, and we are powerless to stop it.
At the end of Simon Ridley's presentation, the PM made a strange comment by saying "Whisky and a revolver". This caused confusion and concern as it was clear that he was not in a stable state of mind.
According to Sir Patrick's statement, during the PM's meeting, he insisted on allowing everything to happen without any restrictions. He supports the idea of accepting more casualties and says it is acceptable as they have lived their lives to the fullest.
I am not convinced by Edmonds, Ferguson, and Farrar, who are scientists in the emergency advisory group.
The prime minister stated that it is necessary for the citizens to behave properly.
The prime minister is becoming increasingly irritated and is throwing papers down in disgust. They then repeated their previous statement: "The majority of individuals who pass away have simply come to the end of their natural lifespan."
We are not aware of the circumstances regarding Sir Patrick's initial input for today.
The conservative media bears responsibility and our leader exhibits a lack of resolve.
Next month is a disorganized period in Downing Street because Mr Cain and later on, Mr Cummings, step down from their positions amid gossip about conflicts with Mr Johnson's former partner Carrie Symonds.
Sir Patrick and Sir Chris had differing opinions on the severity of social restrictions needed to control the increasing number of cases in England.
The chief marketing officer believed that establishing regulations would provoke a negative response from the community, but Sir Patrick was enthusiastic about enforcing them sooner.
In the latest diary entry, he jots down that the CMO once again discussed the possibility of going "too early" and driving people away. However, he questions the validity of this notion and believes that taking action sooner and with more vigor may be the better approach.
It is not accurate to assume that all of the diary entries portray Mr Johnson as opposing stricter Covid restrictions.
As we reach the middle of November, it seems that he is the driving force behind advocating for more aggressive measures.
The Prime Minister stands out as the sole reasonable perspective amidst the political landscape [...]
The PM is advocating for a stricter approach and emphasizes that if the situation exacerbates, there will be an increase in job losses.
At present, there is a Covid-19 vaccine accessible in the UK. In this post, the initial statement talks about an aim to immunize 15 million individuals before the 15th of February.
The Prime Minister has stated that we should receive 15 million doses of vaccine by February 15th, followed by 20 million more by March 1st. Additionally, there will be 30 million doses available by April. However, we must consider taking action by this time.
The individual expressed his desire to have Tier 3 implemented by March 1st, followed by Tier 2 on April 1st, and Tier 1 on May 1st. Additionally, he demanded that no more changes be made after September. He concluded by mentioning that the team would need to bring in the "pro death squad" from HMT.
The reference to the "pro death squad" within the Treasury refers to those who are urging for a swift reopening. Mr. Johnson's aim was to have all restrictions lifted by September.
"Further Details On This Tale"
Read more