Shhhh! Rugby World Cup fans face fines if they are too noisy in Marseille
Fans arriving in Marseille for the England and Scotland matches during the Rugby World Cup's first weekend are being alerted about potential penalties reaching €150 (£128) due to "evident public intoxication." Additionally, they could also be fined up to €180 for causing disturbances with excessive noise levels.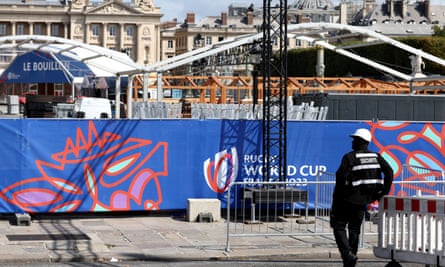 As England takes on Argentina in their first World Cup match on Saturday and Scotland plays their opening game against South Africa on Sunday, the Stade Vélodrome in Marseille is preparing for an arrival of over 100,000 fans throughout the weekend.
Fans are being given "notices about the laws in France and useful recommendations", which consist of possible penalties for "clearly being drunk in public, using drugs (€150-450), and engaging in prostitution (€1,500)".
The guidance continues to explain that if you litter or urinate on public streets, you can be fined anywhere from €135 to €375. Additionally, making excessive noise can result in a fine ranging from €68 to €180. The advice emphasizes that even though the Rugby World Cup is a lively and enjoyable event, it is important to still maintain public tranquility.
The game between England and Argentina starts at 9pm local time on Saturday, while Scotland will face South Africa at 5.45pm on Sunday. Numerous fans have already arrived in Marseille, and the city's Old Port is a favorite destination for tourists. In July, it was revealed that the event organizers had managed to secure a special permission to sell alcohol in the stadiums during the tournament, despite the French law prohibiting it.
Marseille has a long history of facing issues with England fans during big football competitions held in France, such as in 1998 and 2016. The last time the England rugby team participated in a major tournament in Marseille was back in 2007, when their victory against Australia in the World Cup quarter-finals went smoothly without any major incidents. However, it is anticipated that the police will be more heavily present this weekend, as French authorities aim to prevent a recurrence of the disorderly events that took place prior to the 2022 Champions League final between Liverpool and Real Madrid.
Marseille is also known as one of the riskier cities in France, having higher rates of criminal activity. The advice given to supporters emphasizes the importance of being aware of the risk of having your belongings stolen. A spokesperson for France 2023 stated to the Guardian that security is of utmost importance, and they will collaborate with local authorities to enhance security measures. There will be a significant increase in security around important transportation hubs, rugby villages, the city center, and the stadium to ensure a safe and enjoyable experience during match days.
England Rugby Travel, the official travel agency of the RFU, stated that they would be giving fans guidance on staying safe during their journey to Marseille. A representative informed the Guardian newspaper that England had previously played in Marseille during the Rugby World Cup in 2007, noting the city's rich rugby tradition and past experiences. The agency aims to offer supporters recommendations on making the most of their weekend in Marseille during the tournament's opening weekend, as they do for all significant occasions, and wishes them a fantastic time.
Read more