Don't Kill Cash: GB News campaign hits 300,000 signatures
Over 300,000 people have now signed the GB News Don't Kill Cash petition, adding to the growing demand for the Government to pass laws safeguarding the use of physical currency.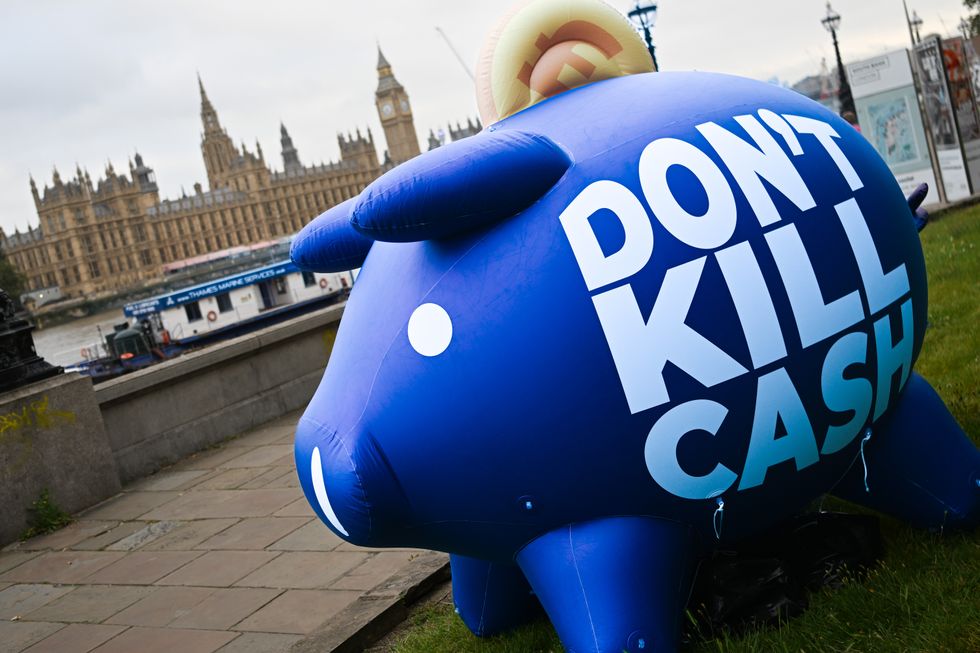 GB News hosts will personally hand over a letter to Chancellor Jeremy Hunt today, representing the collective voices of viewers and listeners who have actively participated in the campaign.
GB News revealed a massive blow-up money container in front of the Parliament earlier today, as the network persistently calls on the Government to safeguard the recognition of physical money as an authorized form of payment in the UK until at least 2050.
Nigel Farage, along with his colleagues from GB News namely Bev Turner, Michelle Dewberry, Patrick Christys, and Liam Halligan, who is the Economics and Business Editor, will collectively present the letter to the residence at Number 11 Downing Street later today.
** STOP THE DEMISE OF CURRENCY - PLEASE SUPPORT OUR PETITION **
GB News revealed a massive blow-up money holder in front of Parliament earlier today while their Don't Eliminate Physical Currency initiative persists.
Over five million grown-ups in the UK continue to depend on physical currency, with it being utilized for a staggering six billion transactions annually.
The advertising effort emerges as worries arise about Britain rapidly transforming into a society that heavily relies on electronic payments, as an increasing number of stores, bars, and coffee shops opt to solely accept transactions made with cards.
According to Liam Halligan, the Economics and Business Editor of GB News, there exists a significant portion of the population in our nation who lack access to traditional banking services, resulting in the absence of bank accounts and debit cards for over a million households.
We are aware that five million individuals from the United Kingdom depend on physical money on a daily basis to meet their essential requirements.
We are aware that a growing number of stores are reluctant to accept cash as they wish to avoid the expenses associated with managing physical currency.
The initiative has garnered the backing of Members of Parliament from all sides of the political landscape.
Mick Lynch, the leader of RMT union, is also backing the campaign, affirming his support on GB News. He expressed complete agreement, stating that they are opposed to money being disbursed.
The secretary general of the National Union of Rail, Maritime, and Transport Employees stated: "It is increasingly challenging for individuals with limited finances, for instance, individuals who rely on physical money to regulate their weekly and monthly expenses.
When you allocate a specific sum of money and create a financial plan based on that, it signifies that you possess a certain level of authority over your life.
"And if you're solely relying on credit cards or contactless payment methods, you may easily lose command over your life."
The campaign has gained support from the Federation of Small Enterprises and the Postal Service as well.
According to Alan Soady from the Federation of Small Businesses, cash remains a crucial component of the payment options, and many small enterprises still prioritize and appreciate accepting physical currency. This point is exemplified in the ongoing campaign featured by GB News.
However, one of the challenges they encounter is determining its placement. Ultimately, numerous bank branches have shut down in recent times.
The possibility for the postal service might involve being responsible for this task, but in numerous instances, especially in remote regions, they are required to travel long distances to deposit the money. Hence, this becomes an obstacle.
The potential drawback of transitioning towards a society devoid of physical currency in our local shopping areas is that the companies facilitating electronic transactions will wield considerable control, possibly resulting in a monopolistic situation.
"They will have the opportunity to increase their charges as there will be no other means of payment available. This further exemplifies the significance of cash as a viable substitute for card transactions."
In an interview with GB News, Martin Kearsley, the Director of Banking at the Post Office, revealed that an alarming number of bank branches have been shutting down. Since 2015, a staggering 5,500 branches have closed, with another 500 predicted to follow suit this year. This trend is expected to continue, leaving the post office as the only remaining option for many individuals in town.
"We are the final in-person interaction that remains feasible in every village, and more and more small enterprises are resorting to the Postal Service to deliver their earnings, deposit them securely, and transfer them to their respective bank accounts."
Read more