Goals and highlights: Morocco 2-0 Comoros in Africa Cup of Nations
The Moroccan team, one of the favorites to win the title, scored their second victory of the phase and sealed their passage to the next round.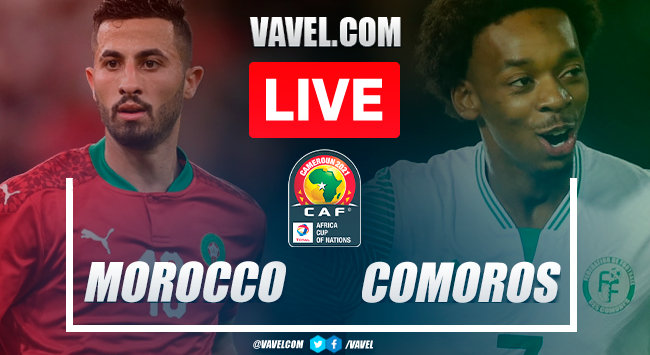 1:01 PM33 minutes ago
The match is over!
12:58 PM36 minutes ago
90+1'
Comoros also makes its fifth substitution: Ibroihim Djoudja replaces Saïd Bakari.
12:57 PM37 minutes ago
90'
Morocco's last move: Azzedine Ounahi takes over from Selim Amallah.
12:56 PM38 minutes ago
89'
Moussa Djoumoi and Ahmed Mogni came on for Mohamed Youssouf and Fouad Bachirou.
12:56 PM38 minutes ago
MOROCCO GOAL!
On a pass from Amallah, Zakaria Abukhial pops up inside the box to increase the lead.
12:56 PM38 minutes ago
83'
Youssef En-Nesyri misses the penalty and misses the chance to increase his team's lead.
12:56 PM38 minutes ago
81'
Penalty for Morocco!
12:33 PMan hour ago
76'
New change for Morocco: Munir El Haddadi replaces Sofiane Boufal.
12:32 PMan hour ago
66'
Morocco also makes another change: Zakaria Aboukhal, Youssef En-Nesyri and Fayçal Fajr replace Imran Louza, Ayoub El Kaabi and Tarik Tissoudali.
12:32 PMan hour ago
65'
Comoros make another change: Younn Zahary replaces Benjaloud Youssouf.
12:32 PMan hour ago
59'
First change for Comoros: Yacine Bourhane comes on for Rafidine Abdullah.
12:32 PMan hour ago
Second Half begins!
The match Morocco 1-0 Comoros is underway again.
11:47 AM2 hours ago
The first half ends!
With Selim Amallah's goal, Morocco is defeating Comoros; after such a result, they would be sealing their pass to the next round.
11:46 AM2 hours ago
45'
One minute of reposition is added.
11:46 AM2 hours ago
42'
Morocco's Selim Amallah and Acharaf Hakimi are also yellow-carded.
11:38 AM2 hours ago
30'
After the goal, Morocco dominated the game and continued to reach the Comoros goal.
11:25 AM2 hours ago
19'
Faïz Selemani and Youssouf M'Changama, a Comoros player, were the first cautions of the match.
11:24 AM2 hours ago
MOROCCO GOAL!
After several bounces, Selim Amallah drives the ball, enters the penalty area and powerfully scores to put his country ahead.
11:13 AM2 hours ago
12'
So far, Comoros has shown good flashes of soccer and has been mostly in the opposition's half.
11:02 AM3 hours ago
The match is underway!
It's kick-off! The teams of Morocco and Comoros are already facing each other.
10:51 AM3 hours ago
Comoros aiming for a surprise
Meanwhile, Amir Abdou, Comoros' coach, spoke about how they are feeling after starting the cup with a loss: "We are facing a difficult opponent. Morocco has a solid group made up of good players and I think they are a team that will go far in this competition. We are trying to correct the mistakes we made in the last game. The team is confident, and we will take this match with a positive attitude."
10:49 AM3 hours ago
Morocco to advance to the next round
Ahead of this match, Vahid Halilhodzic, Morocco's coach, mentioned what is the objective in this tournament: "We had an important victory in a difficult match against Ghana. That victory served to improve the mood of the team and the players. We came into this competition with a lot of ambition. It's been a long time since Morocco won the AFCON title. We are here to give our best and we are optimistic to make the Moroccan people happy."
10:37 AM3 hours ago
Comoros: substitutes
Kassim Abdallah, Chaker Alhadhur, Younn Zahary, Abdallah Ali Mohamed, Nakibou Aboubakari, Ali M'Madi, Ibrolhim Djoudja, Yacine Bourhane, Ahmed Mogni, Ali Ahamada, Moussa Djoumoi and lyad Mohamed.
10:20 AM3 hours ago
Morocco: substitutes
Azzedine Ounahi, Munir El Haddadi, Fayçal Fajr, Munir Mohand Mohamedi, Illas Chair, Zakaria Aboukhlal, Sofian Chakla, Youssef En-Nesyri, Sofiane Alakouch, Ahmed Reda Tagnaouti, Samy Mmaee and Soufiane Rahimi.
10:15 AM3 hours ago
Comoros: confirmed lineup
S. Ben; K. M'Dahoma, M. Youssouf, N. Abdou, R. Abdullah, B. Youssouf, F. Selemani, S. Bakari, Y. M'Changama, E. Ben and F. Bachirou.
10:15 AM3 hours ago
Moroccos: confirmed lineup
Bono: A. Aguerd, S. Amrabat, A. Masina, A. Hakimi, I. Louza, R. Saïss, S. Amallah, S. Boufal, T. Tissoudali and A. El Kaabi.
10:10 AM3 hours ago
Let's get started!
In just under an hour, the Moroccan and Comoros teams will play their second match at the Africa Cup of Nations. For the moment, the players from each country are already at the stadium, and in a few minutes they will begin their warm-up.
10:05 AM3 hours ago
Tune in here Morocco vs Comoros Live Score
In a few moments we will share with you the starting Morocco vs Comoros live, as well as the latest information from Roumde Adjia Stadium. Stay tuned for up-to-the-minute live coverage of the match on VAVEL.
10:00 AM4 hours ago
How to watch Morocco vs Comoros Live Stream on TV and Online?
9:55 AM4 hours ago
Comoros: last lineup
A. Ahamada; K. Abdallah, K. M'Dahoma, Y. Zahary, S. Bakari, M. Youssouf, I. Mohamed, R. Abdullah, B. Youssouf, Y. M'Changama and E. Ben.
9:50 AM4 hours ago
Morocco: last lineup
Y. Bono; A. Hakimi, R. Saïss, N. Aguerd, A. Masina, S. Mmaee, A. Ounahi, S. Amallah, I. Louza, S. Boufal and Z. Aboukhial.
9:45 AM4 hours ago
How do they arrive?
Last Monday, in their Africa Cup of Nations debut, Morocco defeated Ghana 1-0 with a goal by Sofiane Boufal, while Comoros lost to Gabon by the minimum difference.
9:40 AM4 hours ago
Group C Africa Cup of Nations
This Friday morning, in the city of Yaoundé, the teams of Morocco and Comoros will face each other in search of points to place themselves at the top of the third sector, which also includes the teams of Gabon and Ghana.
9:35 AM4 hours ago
What is the format?
The tournament begins with the Group Phase, of which there are six, and in which there are four teams in each one; the teams in the top two places after the three rounds will advance to the next round, as well as the four best third-placed teams in the Cup. The direct elimination stages will be played in a single match: round of 16, quarterfinals, semifinals and final.
9:30 AM4 hours ago
Participating teams
The 24 countries competing in this Cup are Cameroon, Algeria, Senegal, Tunisia, Nigeria, Morocco, Egypt, Ghana, Mali, Ivory Coast, Guinea, Burkina Faso, Cape Verde, Gabon, Mauritania, Zimbabwe, Guinea-Bissau, Sierra Leone, Sudan, Malawi, Comoros, Equatorial Guinea, Ethiopia and Gambia.
9:25 AM4 hours ago
2021 Africa Cup of Nations
It is the most important competition of the African Football Confederation, and this edition -which is the 33rd in its history- is being held in Cameroon. The tournament was scheduled to take place in 2021, but due to the covid pandemic, it was delayed until this date. The final will be played in the first days of the following month.
9:20 AM4 hours ago
Welcome to VAVEL.com's coverage in the 2021 Africa Cup of Nations Group Stage: Morocco vs Comoros Live Updates!
My name is Alan Rodriguez and I'll be your host for this game. We will provide you with pre-game analysis, score updates, and news as it happens live here on VAVEL.