Manchester City 1-0 Brighton: Premier League – live!
Minute-by-minute report: Will City continue their rise up the table or could Brighton pull off a shock? Join Nick Ames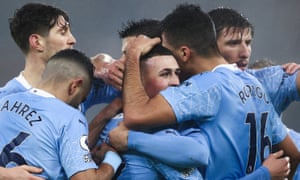 Key events
Show
7.51pm

GMT

19:51

Full-time: Manchester City 1-0 Brighton

7.49pm

GMT

19:49

Raheem Sterling misses from the spot!

7.48pm

GMT

19:48

Penalty to Manchester City

7.02pm

GMT

19:02

Peeeeeep!

6.46pm

GMT

18:46

Half-time: Man City 1-0 Brighton

6.45pm

GMT

18:45

Goal! Man City 1-0 Brighton (Foden 44)

6.00pm

GMT

18:00

Peeeeeep! Away we go!
Live feed
Show
7.57pm GMT19:57
All of which means Spurs v Fulham is of big interest to both of these teams. Barry Glendenning has it especially for you:
7.55pm GMT19:55
File that one under "not a classic". Brighton played well there, I thought, and all the more so given they were weakened somewhat. City rarely looked like putting them away, really, save for that little flurry before the hour mark and of course the penalty. But at the moment it's more about getting the job done, I think. The win puts City third for the moment – provisionally second above Liverpool if they were to win a game in hand – and four points off leaders United.
Brighton need points, not plaudits, pretty soon: they are three points and one place off the drop zone and Fulham, directly beneath them, have *three* games in hand.
Updated at 7.56pm GMT
7.51pm GMT19:51
Full-time: Manchester City 1-0 Brighton
Foden's lovely goal wins it, and means Sterling won't need to worry overly about that pretty horrible penalty miss at the end.
7.50pm GMT19:50
90+3 min: And the Seagulls have a late free-kick. Sanchez goes up for it! But City survive, if a touch scruffily.
7.49pm GMT19:49
Raheem Sterling misses from the spot!
Wow – he's totally skied it! That was embarrassing. Brighton live to fight another minute or so.
7.48pm GMT19:48
Penalty to Manchester City
A loose header back by Dunk, from Brighton's own throw-in, is pounced upon by De Bruyne and Sanchez brings him down near the byline.
7.47pm GMT19:47
90+1 min: We'll see three added minutes, which feels right.
7.46pm GMT19:46
89 min: Nice run by Khadra down the right, but he can't find a yellow shirt with his cutback. City are still worried though as we near stoppage time.
7.45pm GMT19:45
88 min: And it's wasted again, Ederson collecting but it'd curled out of play anyway. Potter must be tearing his hair out. You have to make these count!
7.44pm GMT19:44
87 min: Can Brighton muster a late charge? They have a left-sided corner and the big guys are up there. March outswings it but it's poor and doesn't get beyond the near post. They do win another now though ...
7.42pm GMT19:42
86 min: Trossard, who has played well tonight, comes off and the 19-year-old Reda Khadra – a new name to me – is on.
This week's most popular news
Air Door Market 2020 |Global Industry Analysis By Trends, Size, Share, Company Overview, Growth And Forecast By 2027| Latest Research Report By DataIn