Jen Shah sentencing live updates: 'Real Housewives' star gets 6.5 ...
Shah pleaded guilty to conspiracy to commit wire fraud for running a telemarketing scheme that defrauded elderly people out of thousands of dollars.
Shah 'finally faces the consequences' of her crimes, feds say
U.S. Attorney Damian Williams hailed the 6 1/2-year sentence meted out to Shah, even if the term was less than the 120 months sought by prosecutors.
"With today's sentence, Jennifer Shah finally faces the consequences of the many years she spent targeting vulnerable, elderly victims," Williams said in a statement.
"These individuals were lured in by false promises of financial security, but in reality, Shah and her co-conspirators defrauded them out of their savings and left them with nothing to show for it."
Shah was also ordered to forfeit $6.5 million, make restitution of $6.64 million, surrender 30 luxury items, 78 counterfeit luxury items and be subject to five years of supervised release once she gets out.
Shah was an "integral leader" of the scam that ran from "at least 2012 until her arrest in March" last year, the government said.
The defendants "victimized thousands of innocent people" by selling them "so-called 'business services' in connection with the victims' purported online businesses," the government said.
Shah leaves court, offers no further comment outside

Shah left U.S. District Court in New York City shortly after her sentencing hearing concluded and declined to answer any questions from reporters outside.
The "Real Housewives of Salt Lake City" star will have to surrender to federal prison on Feb. 17.
Shah tells court she's Jennifer Shah, not a reality star

Adam Reiss
Before she was sentenced to 6 1/2 years in prison, Shah tearfully told the court she was "deeply sorry" for her crimes and wanted to "apologize to all the victims."
Defendants said she's not the "carefully created and edited" character fans see weekly on the "Real Housewives of Salt Lake City."
"Most people identify me with my public persona," she said. "It has nothing to do with reality."
Shah broke down in tears during her address to the court.
"I would like to take this opportunity to speak about who I actually am," she said. "I am Jennifer Shah … daughter of immigrants."
She thanked her family for her upbringing, which she said was "rooted in ... mutual respect, fulfillment of obligations, humility and generosity, loyalty and respect."
"I have to come to terms that I have gone against these core values and I am deeply sorry for what I have done," Shah continued. "I want to apologize to all the victims and families and I take full responsibility for the harm I caused and will pay full restitution to all of the victims."
She added: "I recognize that some of you lost hundreds and others lost thousands and I promise to repay."
Shah has 6 weeks of freedom before she must report to prison
Shah was ordered to surrender to the Bureau of Prisons on Feb. 17.
She asked to be sent to FPC Bryan, a minimum security prison camp for women that's about 100 miles northeast of Austin and 100 miles northwest of Houston.
But the bureau will need to evaluate her security classification before she's told where to report.
Shah sentenced to 6.5 years in prison

Adam Reiss
Shah was sentenced to 6 1/2 years in prison Friday in federal court in New York City.
She'll be subject to five years of supervised release once she gets out.
Shah stood and faced the judge as her prison term was announced and showed no visible reaction.
Stein said "thousands of elderly people" lost "tens of millions of dollars" in the scheme led by Shah.
"No victim ever earned promised returns" and they suffered "financial and emotional devastation" as their lives were "turned upside down," the judge said.
"I don't know if she appreciates the harm she has caused, I hope she has, I heard the words," Stein said. "Those people have no way of being made full again ... If they are financially, they won't be emotionally."
The judge wished Shah well: "I do wish you luck. I know you can put this behind you and when you get out you can rebuild your life."
10 years in prison would be 'appropriate' for Shah, prosecutor says

Adam Reiss
The government urged Stein to sentence Shah to 10 years, calling that term "appropriate" for her crimes.
"We think a 120-month sentence would be appropriate," prosecutor Robert Sobelman said. "She was concerned about herself."
Many of the victims are elderly and too afraid to travel with the threat of Covid-19 still lingering, the government said.
"To us these were not numbers, these are older vulnerable people whose lives were turned upside down by the defendant's telemarketing scam and they still suffer," Sobleman said. "Some of them would have liked to be here today but are not comfortable traveling due to their age and Covid-19."
Shah was 'committing crimes day in and day out,' prosecutor says

Adam Reiss
Prosecutor Robert Sobelman reminded the court that Shah was in charge of a telemarketing scheme that targeted some of the nation's most vulnerable people.
"She ran her own floor and trained and hired people here in Manhattan for years," Sobelman said. "She was here in New York half a year telling people how to do this."
Shah was "committing crimes day in and day out" and making money off people who had little to give, according to the government.
"Shah worked hard to make as much money for herself at the expense of vulnerable people," Sobelman said. "Every cooperating witness said the person with the most power was Jen Shah."
'Real Housewives of Potomac' star offers prayers for Shah
Shah had at least one fellow "Housewives" figure publicly backing her from afar.
"Real Housewives of Potomac" star Mia Thornton appeared to be one of the first "Housewives" to tweet her support for Shah on Friday.
'Punishment is very personal and real,' Shah's attorney says

Adam Reiss
No matter what prison term comes to Shah, her defense lawyer said the reality TV star is already paying a stiff price.
"People have watched her ruin her life and ruin the lives of other families and the punishment is very personal and real," Priya Chaudhry told the court.
There was 'nothing good' about defrauding the elderly, lawyer says

Adam Reiss
When Shah's defense lawyer started to discuss all the good things her client has done in recent times, Stein appeared incredulous.
"What good things could she have been doing, calling elderly people and selling them business opportunities and they would max out their credit cards and get the person to put down an additional credit card and then upsell them for other products?" the judge rhetorically asked. "If there is good in that I want to hear it."
Priya Chaudhry, the attorney, again acknowledged her clients' crimes.
"There was nothing good in that," she said. "I was describing her selling seminars teaching people how to be good in business … this was before she began committing the crimes."
Cold reality of government evidence finally woke up Shah, lawyer says

Adam Reiss
It wasn't until the government presented all its evidence that Shah came to grips with her ongoing fraud, the reality TV star's attorney said.
"Ms. Shah was lost for months in an echo chamber of her own denial," her lawyer, Priya Chaudhry, said.
"She found herself staring at her truth and the depth of her wrongs and she hurt them and they were real and there was no more lying."
Shah is eager to "pay her debt to society and when she is a free woman again she will pay her debts to the victims and she promises to set an example," Chaudhry said.
Defense: We are here for the people who have suffered

Adam Reiss
Shah's defense immediately acknowledged the pain the "Real Housewives of Salt Lake City" star has caused to victims.
"We are here for one reason: the innocent people who have suffered," defense lawyer Priya Chaudhry told the court.
"We know hundreds more have lost so much, their confidence, the security of their savings, they lost sleep and their dreams … so many of these people had very little to begin with and now they struggle even more."
Chaudhry said Shah won't forget what kind of damage she's caused.
"The (victims) worked hard and tried their best and their lives are forever mangled now," the attorney said. "For the rest of Ms. Shah's life, she will remember their names."
Shah grew up in a working class family and identifies with the victims, according to her lawyer.
"Every day since she has plead guilty, she has read names and prayed for forgiveness but she cannot forgive herself," Chaudhry said. "She understands she cannot undo these things and the things she has caused their families but she does acknowledge today is about justice."
Probation report recommends 6-year sentence

Adam Reiss
A probation report urged Stein to sentence Shah to 72 months in prison — almost halfway between the government's recommendation of 10 years and the defense request for 36 months.
Before asking both sides to present their case, Stein said he wanted to make sure everyone knows that Jen Shah is a real person and not a reality show figure.
"People should not confuse the character she played on an entertainment show with the person I have before me," he said. "The other is acting and this is reality."
The sentencing hearing has started

Adam Reiss
Stein has taken the bench to start the sentencing hearing.
Shah took a seat between her two attorneys at the defense table. Six prosecutors are seated at the government's side.
Courtroom reaches capacity, prompting staff to open another

Adam Reiss
Stein's courtroom wasn't big enough to accommodate the spectators who wanted to witness the sentencing of the "Real Housewives of Salt Lake City" figure.
The 70-person capacity of Stein's courtroom filled quickly, prompting courthouse staff to open another nearby courtroom for a closed-circuit feed of Shah's sentencing.
Six rows are filled, a rare sight in this or any federal courtroom. Spectators in the gallery have remained quiet and the full house has made the room quite warm.
Family, football and fun in Shah's closing days of freedom
Shah was in Southern California this week, supporting her husband, University of Utah assistant football coach Sharrieff Shah, as his Utes played Penn State in the Rose Bowl.
Sharrieff Shah, the Utes cornerbacks coach and special teams coordinator, had a particularly rough day as Penn State came away with a convincing 35-21 victory.
Shah's secondary unit surrendered 279 passing yards to Penn State quarterback and Rose Bowl Offensive MVP Sean Clifford, who had his best game of the season.
If Shah has to make due without his wife's income, he should be in good shape. He made $632,199.94 in wages in fiscal year 2022 and a total wage-and-benefit package valued at $721,587.22, according to a database of Utah public employee salaries.
Shah and her family have entered the courtroom

Adam Reiss
Jen Shah has entered courtroom with her husband, sons and other family members.
They took seats in the front row and shook hands with one of her attorneys, ahead of the sentencing hearing which should start in minutes when Stein takes the bench.
'Housewives' fans out in force ahead of Shah sentencing

Adam Reiss
Fans of the show came from near and far to attend Shah's sentencing, including an Arkansas nurse who said she felt for the defendant's two sons and victims.
"Her kids had no idea (about Shah's telemarketing scheme) so this must be so awful to see their mom be scrutinized in public," the nurse, Leah Sterneker, said. "All the negative attention the children must be getting."
But the "Housewives" fan didn't lose sight of the scheme's victims, many who were senior citizens who lost significant money: "I'm a nurse and I work with the elderly a lot and money is tight."
Not every "Housewives" fan had to travel hours to get to federal court in the Southern District of New York to take in Friday's drama.
Matt Durkin, who is from the Hell's Kitchen neighborhood of Manhattan, said he had little forgiveness to offer Shah.
"She has no remorse and knew what she was doing. She could have put her skills for good," Durkin said. "Once I found out it was done on old people and Alzheimer's patients it became a point of not return for me."
Shah an early arrival
Shah pulled up to the federal court this morning at about 8:20 a.m. ET, more than 90 minutes ahead of her scheduled sentencing.
Wearing a beige outfit, the defendant did not stop to answer any questions shouted at her from a row of cameras outside the Manhattan courthouse.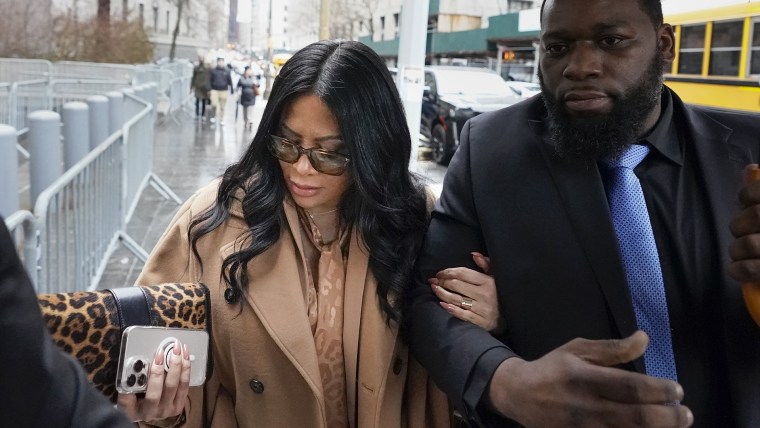 Her two sons, Sharrieff Shah Jr. and Omar Shah, were also at the federal courthouse. The defendant's husband, University of Utah assistant football coach Sharrieff Shah, was also with the family and he also declined comment.
Shah could be the second 'Housewives' star to do serious federal time

Stephanie Scrafano
It's not clear if an imprisoned Shah would have any future "Housewives" role — to have her seat kept warm ala famed New Jersey resident Teresa Giudice.
When the "Real Housewives of New Jersey" star Giudice was convicted of fraud in 2014, Bravo postponed filming of the seventh season of the show until her release.
During those 11 months she served, the network aired a three-episode spin-off, "Teresa Checks In," which gave viewers a raw glimpse at the Giudice family's struggles while their matriarch was at "camp."
The show featured emotional phone calls between an incarcerated Giudice, her husband and four daughters during milestones she missed while away, like her eldest daughter Gia's 8th grade dance and graduation.
In the premiere of the subsequent season of "Real Housewives," cameras were rolling as Giudice left prison and was tearfully reunited with her family in her first moments back at home.
Shah should get 10 years in prison after guilty plea for wire fraud, feds say
The Justice Department is requesting a decade in prison for "The Real Housewives of Salt Lake City" star Jen Shah ahead of her Jan. 6 sentencing for running a nationwide telemarketing scheme targeting seniors, according to newly filed court documents that also feature previously unreported victim impact statements from some of the elderly people she defrauded.
The Dec. 23 filing calls Shah, 49, "the most culpable person charged in this case," and "an integral leader of a wide-ranging, nationwide telemarketing fraud scheme that victimized thousands of innocent people.
"At the defendant's direction, victims were defrauded over and over again until they had nothing left," Damian Williams, U.S. Attorney for the Southern District of New York, wrote. "She and her co-conspirators persisted in their conduct until the victims' bank accounts were empty, their credit cards were at their limits, and there was nothing more to take."
Read the full article here
How much time will Shah actually spend behind bars?
There's no parole in the federal prison system and good behavior credits are in short supply compared to most states.
The best-case scenario for any federal inmate would be to get a little less than 15% of his or her sentence slashed through good time credit.
So a 36-month (3 years) sentence could lead to Shah spending 30 1/2 months behind bars. A 120-month (10 years) sentence could mean 8 1/2 years in prison.
If she's sentenced to prison, what would happen next?
It'd be highly unlikely that Judge Stein would remand Shah — a non-violent offender already out on bail — into custody immediately after sentencing.
More likely, Shah would be told a date, at least a month out, to surrender herself at a federal facility.
Once she's sentenced, Shah's fate falls into the hands of the Bureau of Prisons.
Most offenders seek to be housed close to home and the nearest women's facilities to Salt Lake City would be FCI Dublin, east of San Francisco, or FCI Phoenix. But there's no way to immediately tell if Shah's still-to-be-determined security classification would fit at either of those facilities.
Her best hope would be to be deemed most appropriate for a minimum security camp.
"If she gets three years, and she's pure white collar and there's no violence involved, then there's a good shot at a camp," NBC News legal analyst Danny Cevallos said.
"A minimum-security camp, I mean even moving up to next level, which is still 'low security' that's a huge difference. If you're eligible for a camp, you'll go to Alaska if you can go to a camp."
Jessica Chastain: 'I feel bad for everyone'
Oscar winner and "Housewives" fan Jessica Chastain expressed sympathy for Shah on Thursday night's "Watch What Happens Live with Andy Cohen" on Bravo.
Cohen put Chastain on the spot, asking her view of Shah, and the actor said she was thinking about Shah's sons who could be without their mother for an extended amount of time.
"I just feel bad for everyone involved. There's a family and a little boy. It's sad," Chastain said.
Cohen referenced Shah again later in the "WWHL," showing "Salt Lake City" footage of law enforcement agents approaching cast members looking for their suspect.
"Salt Lake City" airs on Wednesday nights and at the end of the most recent show, teased a clip for the next episode. Shah was shown cursing her co-defendant and one-time assistant Stuart Smith who pleaded guilty.