Trump impeachment: attention turns to Senate after House votes to impeach – live
Trump's impeachment in the House triggers a trial in the Senate, which McConnell says can't begin until Senate is back in session Tuesday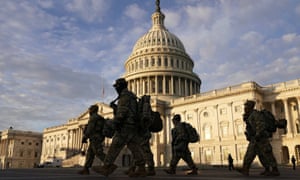 Key events
Show
1.44pm

GMT

13:44

Weekly initial US jobless claims soar to 965,000 in latest figures

12.49pm

GMT

12:49

Trump 'refusing to pay' Rudy Giuliani's legal fees after falling out

12.44pm

GMT

12:44

Biden-Harris Inauguration Committee announces line-up for next week's event

12.12pm

GMT

12:12

White House liaison sought derogatory info on E Jean Carroll from DoJ official

11.12am

GMT

11:12

Joe Biden to unveil Covid vaccination and economic recovery plan

10.48am

GMT

10:48

US police three times as likely to use force against leftwing protesters
Live feed
Show
2.46pm GMT14:46
Dr Harold Bornstein, the president's former personal physician, died on Friday at 73.
During the 2016 campaign, Bornstein famously said that Donald Trump, one of his longtime patients, would be "the healthiest individual ever elected to the presidency,"
The New York Times has the story:
His death was announced on Thursday in a paid notice in The New York Times. It did not give a cause or say where he died.

Loquacious, hirsute and eccentric, Dr. Bornstein, a gastroenterologist, was Mr. Trump's personal physician from 1980 to 2017. He had inherited Mr. Trump as a patient from his father, Dr. Jacob Bornstein, with whom he shared a medical practice on the Upper East Side of Manhattan, at Park Avenue and 78th Street.

When Mr. Trump was elected president in 2016, Dr. Bornstein had hoped to be named White House physician and suggested as much to a longtime Trump assistant. But he was expelled from the Trump orbit after he disclosed to The New York Times that the president was taking medication to make his hair grow.
2.28pm GMT14:28
This is Joan Greve in Washington, taking over for Martin Belam.
Here's what the blog is keeping an eye on today: Joe Biden will deliver remarks this evening on his "vaccination and economic rescue legislative package to fund vaccinations and provide immediate, direct relief to working families and communities".
The president-elect has promised that passing a comprehensive coronavirus relief package will be his first order of business after taking the oath of office.
That task will be significantly easier with Democrats in control of the Senate, but there are still some disagreements within the party over the details of a relief package.
For example, Biden has pledged another round of direct cash payments to all Americans, but Joe Manchin, the centrist senator of West Virginia, has said he would like more targeted relief rather than checks for everyone.
Biden will likely address those differences in opinion in his speech today, so stay tuned.
1.50pm GMT13:50
If you fancy something to get your ears around, in this podcast today, Jonathan Freedland talks to Noah Feldman, who testified for the Democrats in the president's first impeachment hearing. They discuss the various consequences for Trump after the House of Representatives voted to impeach him for the second time.
1.44pm GMT13:44
Weekly initial US jobless claims soar to 965,000 in latest figures
The latest weekly initial jobless claims soared to 965,000 last week, according to the weekly data from the Department of Labor. Last week's figure was 795,000. The most recent Bureau of Labor Statistics showed there had been a monthly decline of 140,000 jobs in December.
The US still needs to recover 10 million jobs to return to pre-pandemic levels. The overall unemployment rate is at 6.7 percent and some 19 million Americans are still relying on claiming some sort of unemployment benefit.
President-elect Joe Biden will be announcing his plans for a Covid economic recovery program in Wilmington, Delaware at 7:15pm.
1.37pm GMT13:37
It is happening again…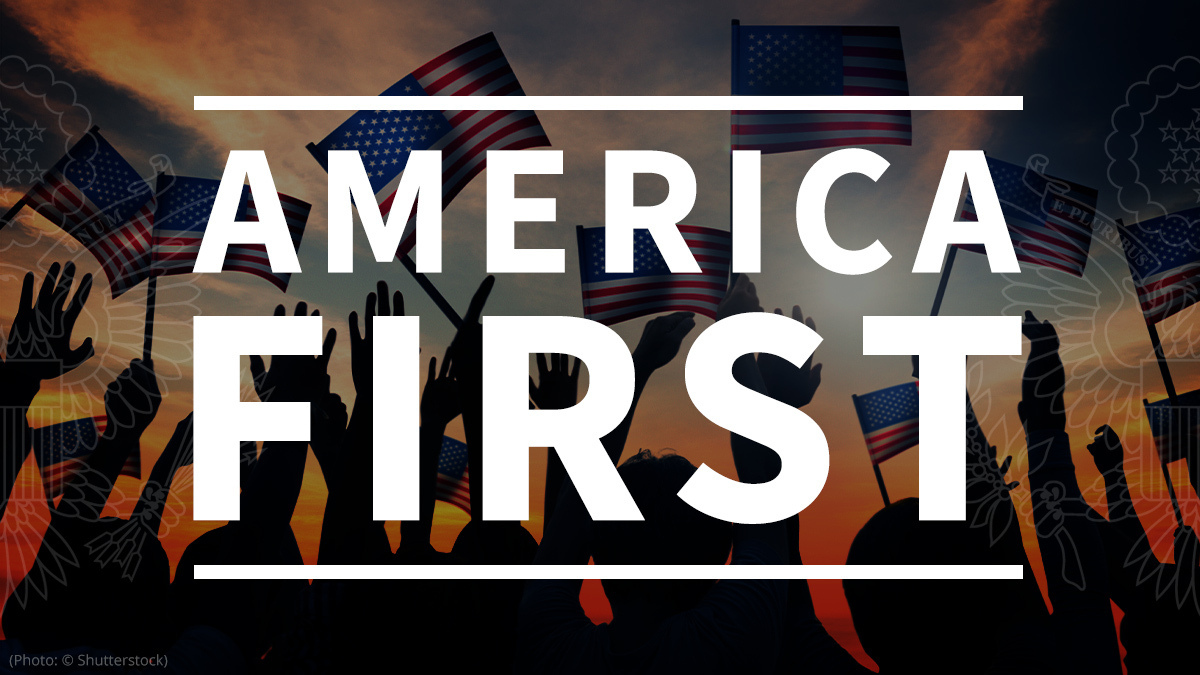 As my colleague Julian Borger put it earlier: "The last days of Pompeo have been played out in a blizzard of self-congratulatory tweets, at the rate of two dozen a day, as he seeks to write his own first draft of history. The former Kansas congressman, with evident ambitions for a presidential run in 2024, has accented his claims of success by frequent derogatory references to the previous administration, portrayed as hapless appeasers. Some of the tweets have been factually incorrect."
1.25pm GMT13:25
Theodore R Johnson, senior fellow at the Brennan Center for Justice, writes for us today:
Last week, Raphael Warnock made history by winning a special senatorial election in Georgia, becoming the first Black Democrat from the south ever elected to the United States Senate. Warnock, the senior pastor of the same church Martin Luther King Jr once led, pulled off the upset thanks to high turnout among Black voters across the state, in metro and rural areas alike. While his victory may have the feel of an overnight success story to much of the nation, it is the product of voter engagement that's occurred over the last decade.
The signs that Warnock could pull off an unexpected victory were all there. In 2018, Stacey Abrams came within 1.4 percentage points of becoming Georgia's first Black governor and the first Black woman to be governor in the nation's history. Then, last November, Joe Biden carried the state, becoming only the second Democrat to win it in more than three decades. And it happened by the slimmest of margins: Biden bested Donald Trump by just 11,000 votes when more than 5m were cast. After these two statewide contests, Democratic strategists were optimistic that strong turnout among Black Georgians would allow them to win both Senate seats up for grabs. Warnock's victory is a culmination of that trend and sustained voter engagement work by figures such as Stacey Abrams and years of Democratic organizers.
As has been well-established, Black Americans are the most reliable Democratic voters in the country – for the last five decades, Democratic presidential and congressional candidates win about 90% of Black voters on average. This basically held true in Georgia in 2020, where Biden beat Trump among Black voters 88–11. Strategists understand that increasing Black voter turnout creates lopsided advantages for Democratic candidates for elected office. So in Georgia, where the number of Black Americans has steadily increased in recent years and presently makes up about a third of the state's residents, Democrats recognized that a window of opportunity to win statewide contests would open.
Stacey Abrams' gubernatorial campaign leveraged the work of grassroots voter mobilization and civic engagement efforts and directed resources to expand outreach, especially in communities of color. And though she lost that election in an outcome clouded by voter suppression, the playbook for how to increase turnout by educating Georgians about the voting process and getting disengaged citizens to show up on election day was well-established. And it worked.
Read more here: Theodore R Johnson – The Democrats owe their new control of the Senate to Black voters in Georgia
1.17pm GMT13:17
ProPublica have a disturbing read this morning about deep-seated racism in the Capitol police force, whose role in last weeks unrest in Washington DC has increased scrutiny. Joshua Kaplan and Joaquin Sapien report:
When Kim Dine took over as the new chief of the US Capitol Police in 2012, he knew he had a serious problem. Since 2001, hundreds of Black officers had sued the department for racial discrimination. They alleged that white officers called Black colleagues slurs like the N-word and that one officer found a hangman's noose on his locker. White officers were called "huk lovers" or "FOGs" — short for "friends of gangsters" — if they were friendly with their Black colleagues. Black officers faced "unprovoked traffic stops" from fellow Capitol Police officers. One Black officer claimed he heard a colleague say, "Obama monkey, go back to Africa."

In case after case, agency lawyers denied wrongdoing. But in an interview, Dine said it was clear he had to address the department's charged racial climate. He said he promoted a Black officer to assistant chief, a first for the agency, and tried to increase diversity by changing the force's hiring practices. He also said he hired a Black woman to lead a diversity office and created a new disciplinary body within the department, promoting a Black woman to lead it.

"There is a problem with racism in this country, in pretty much every establishment that exists," said Dine, who left the agency in 2016. "You can always do more in retrospect."
Read more here: ProPublica – "No One Took Us Seriously": Black Cops Warned About Racist Capitol Police Officers for Years
1.07pm GMT13:07
Here's what is in the diary for today. The president has got no official public engagements listed, although, as they have done virtually every single day in January, the White House has asserted that, and I quote, Donald Trump "will work from early in the morning until late in the evening. He will make many calls and have many meetings."
Vice president Mike Pence takes part in a briefing on inauguration security at Fema headquarters at 4pm.
President-elect Joe Biden will speak about his "vaccination and economic rescue legislative package to fund vaccinations and provide immediate, direct relief to working families and communities" in Wilmington, Delaware, at 19:15 ET, which is just gone midnight if, like me, you are in the UK.
Future first lady Jill Biden hosts a virtual special announcement and listening session with military family organisations at 1pm.
And perhaps attracting more attention than usual, given the events of the last couple of months and the pressure put on Georgia's election machinary by the president, Gov. Brian Kemp delivers his state of the state address in Atlanta, Georgia, at 11am.
Also at 11am, New York State attorney general Letitia James is trailing that she willl make "a major civil rights announcement".
Updated at 1.09pm GMT
12.49pm GMT12:49
Trump 'refusing to pay' Rudy Giuliani's legal fees after falling out

Luke Harding
Donald Trump has fallen out with his personal lawyer, Rudy Giuliani, and is refusing to pay the former New York mayor's legal bills, it was reported, with the president feeling abandoned and frustrated during his last days in office.
Giuliani played a key role in Trump's failed attempts to overturn the results of November's presidential election through the courts. The lawyer mounted numerous spurious legal challenges, travelling to swing states won by Joe Biden, and spread false claims the vote was rigged.
According to the Washington Post, relations between Trump and Giuliani have dramatically cooled. Trump has instructed his aides not to pay Giuliani's outstanding fees. The president is reportedly offended by Giuliani's demand for $20,000 a day – a figure the lawyer denies, but which is apparently in writing. White House officials have even been told not to put through any of Giuliani's calls.
The apparent breach with Giuliani – one of Trump's most loyal and sycophantic supporters – has contributed to the president's sense of isolation and betrayal, aides have suggested.
Trump is reportedly unhappy that members of his inner circle have failed to defend him following last week's deadly attack on the US Capitol by a mob of his supporters. Many have been silent following Wednesday's vote in the House of Representatives to impeach Trump for a second time.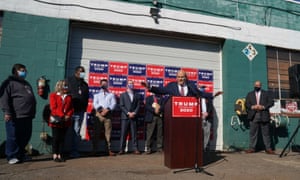 Those who have reportedly failed to step up include Trump's press secretary, Kayleigh McEnany, his son-in-law and adviser, Jared Kushner, and his chief of staff, Mark Meadows, responsible for indulging Trump's belief that the election was rigged.
"The president is pretty wound up," one senior administration official told the Post. "No one is out there."
Trump's refusal to pay Giuliani's bills is another blow to the former federal prosecutor. Giuliani is already under fire for his own alleged role in inciting Trump supporters to storm the Capitol building.
Read more of Luke Hardin's report here: Trump 'refusing to pay' Rudy Giuliani's legal fees after falling out
12.44pm GMT12:44
Biden-Harris Inauguration Committee announces line-up for next week's event
Also with an entertainment element to it, this morning the Biden-Harris Inauguration Committee have announced the line-up for the event. In a statement they say the following participants will join the 59th Inaugural Swearing-In Ceremony:
Invocation – Father Leo J. O'Donovan
Pledge of Allegiance – Andrea Hall
National Anthem – Lady Gaga
Poetry Reading – Amanda Gorman
Musical Performance – Jennifer Lopez
Benediction – Reverend Dr. Silvester Beaman
The statement also promises that:
Over the course of five days of programming, "America United" activities will honor inaugural traditions while safely allowing more Americans than ever before to participate from their own homes. These activities include, "United We Serve," a National Day of Service on January 18, Martin Luther King Jr. Day; a nationwide Covid-19 Memorial to Lives Lost on January 19; and the official Inaugural Ceremonies, a wreath laying on Arlington National Cemetery, and a "Parade Across America," and a "Celebrating America" primetime program on January 20. The PIC will also install an extensive public art display — a "Field of Flags," which will cover the National Mall up to 13th Street — to represent the American people who are unable to travel to Washington, DC.
12.40pm GMT12:40

Andrew Pulver
One somewhat lighter-hearted bit of fall-out from last week's events – Macaulay Culkin has joined calls to get Donald Trump's cameo removed from Home Alone 2.
Culkin replied to a tweet that asked "petition to digitally replace trump in 'home alone 2' with 40-year-old macaulay culkin" with the single word: "Sold." Culkin then followed up by responding "Bravo" to another tweet that contained a comic edit of Trump replaced by empty space.
Trump appears briefly in Home Alone 2: Lost in New York when Culkin, as its hero Kevin, asks him for directions to the lobby of the Plaza hotel, which Trump owned at the time. In an interview with Insider in December 2020, the film's director Chris Columbus said that Trump "did bully his way into the movie" by insisting he get a role in the film in return for allowing shooting to take place in the hotel.
12.31pm GMT12:31

Julian Borger
The finale of Mike Pompeo's reign at the state department has been as controversial and clamorous as the rest of his 32-month tenure, but it is unclear what traces will remain after he has gone.
The last days of Pompeo have been played out in a blizzard of self-congratulatory tweets, at the rate of two dozen a day, as he seeks to write his own first draft of history.
The former Kansas congressman, with evident ambitions for a presidential run in 2024, has accented his claims of success by frequent derogatory references to the previous administration, portrayed as hapless appeasers.
Some of the tweets have been factually incorrect, for example blaming Barack Obama for an arms control treaty that was signed by Ronald Reagan.
Other claims are contradictory, like his insistence the US has restored deterrence against Iran, alongside his allegation that Tehran is a greater threat than ever. On Tuesday, he called Iran "the new Afghanistan", alleging – without evidence – that it has become al-Qaida's hub of operations.
While Iran's economy has been successfully pummelled by sanctions, as Pompeo points out, its stockpile of low-enriched uranium is now more than 12 times greater than it was when Pompeo took up the job of US secretary of state in 2018.
"If the real economic duress US sanctions put on Tehran has increased or least failed to stop the very activities that policy was meant to reverse, it's a matter of having made an impact without delivering a favourable outcome," Naysan Rafati, senior Iran analyst at the International Crisis Group, said.
Similarly, Pompeo argues that Donald Trump's summits with Kim Jong-un led to a lull in nuclear warhead and long-range missile testing. But he does not mention that Kim has declared an end to that moratorium, and is now set to have a substantially bigger arsenal than when he began meeting Trump.
The portrait Pompeo has painted of Trump's America has been in dramatic contrast to recent events. Two days after Congress came under an unprecedented violent attack by a mob egged on by Trump, Pompeo blithely tweeted: "Being the greatest country on earth is not just about our incredible economy & our strong military; it's about the values we project out into the world."
Read more of Julian Borger's analysis here: The last days of Pompeo: secretary of state lashes out as reign comes to an end
12.28pm GMT12:28
A quick snap from Reuters here that the International Committee of the Red Cross (ICRC) said on Thursday it feared that the US designation of Houthi fighters in Yemen as a terrorist group would lead to a "chilling effect" on delivering vital aid to starving and sick civilians.
ICRC director of operations Dominik Stillhart said the agency urged states imposing such measures to consider "humanitarian carve-outs" to mitigate any negative impact on populations and on impartial aid.
US secretary of state Mike Pompeo announced the move, which will include sanctions against the movement and three of its leaders, on Sunday. It will come into effect on 19 January, the Trump administration's last full day in office
12.17pm GMT12:17
Nigerian-American political strategist and organizer Akin Olla writes for us this morning on how the US Capitol riot risks supercharging a new age of political repression:
Republicans have long called for the increased repression of activists, but the chorus has reached a crescendo in the age of Black Lives Matter and climate protests. In the last five years, 116 bills to increase penalties for protests including highway shutdowns and occupations have been introduced in state legislatures. Twenty-three of those bills became law in 15 states.

Following the killing of George Floyd and the subsequent uprisings, we've seen another flow of proposals. For example, Governor Ron DeSantis of Florida would like to make merely participating in a protest that leads to property damage or road blockage a felony, while granting protections to people who hit those same protesters with their cars. Following the storming of the Capitol, DeSantis, a Trump ally, has expanded these proposals with more provisions and harsher consequences. The only thing preventing the passage of many of these laws thus far has been opposition from Democrats.

But now the Democrats have caught the tune and returned to their post-9/11 calls for heightening the "war on terror". Joe Biden has already made it clear that he intends to answer these calls. He has named the rioters "domestic terrorists" and "insurrectionists", both terms used to designate those whose civil liberties the state is openly allowed to violate. He has declared he will make it a priority to pass a new law against domestic terrorism and has named the possibility of creating a new White House post to combat ideologically inspired violent extremists.

These moves are not to be taken as empty threats by Biden. All the pieces are in place for him to attempt to unite the parties by being a "law and order" president and effectively crush any social movement that opposes the status quo.
Read more here: Akin Olla – The US Capitol riot risks supercharging a new age of political repression
12.12pm GMT12:12
White House liaison sought derogatory info on E Jean Carroll from DoJ official
The White House liaison to the Department of Justice (DoJ), Heidi Stirrup, sought out derogatory information late last year from a senior justice department official regarding a woman who alleges she was raped by Donald Trump, according to the person from whom Stirrup directly sought the information.
The revelation raises the prospect that allies of the US president were directly pressing the justice department to try to dig up potentially damaging information on a woman who had accused Trump of sexually attacking her.
E Jean Carroll, a journalist and advice columnist, sued Trump in November 2019, alleging he had defamed her when he denied her account of having been raped by him. Carroll alleges Trump sexually assaulted her in a dressing room in Bergdorf Goodman, a high-end Manhattan department store, in either late 1995 or early 1996.
Trump at the time responded to her allegations by claiming Carroll was "totally lying" and attempted to ridicule her by saying "she's not my type". Those and similar comments led Carroll to sue him.
Stirrup apparently believed the justice department had information that might aid the president's legal defense in the suit. The attorney who Stirrup sought information from regarding Carroll said that Stirrup approached them not long after a judge had ruled the justice department could not take over Trump's defense.
Stirrup asked if the department had uncovered any derogatory information about Carroll that they might share with her or the president's private counsel. Stirrup also suggested that she could serve as a conduit between the department and individuals close to the president or his private legal team.
Stirrup also asked the official whether the justice department had any information that Carroll or anyone on her legal team had links with the Democratic party or partisan activists, who might have put her up to falsely accusing the president.
Read more of Murray Waas' report here: Revealed – White House liaison sought derogatory info on E Jean Carroll from DoJ official
12.06pm GMT12:06
David Nather reports this morning that a new Axios-Ipsos poll states that more than half of Americans want Trump removed from office. But it doesn't really appear to show that the country is united in this resolve:
The 56% who want him removed is up, from 51% in another Ipsos poll last week. But three in four Republicans disagree. It's mostly Democrats and a slight majority of independents who want him gone. 94% of Democrats say Trump should be removed immediately. The poll was taken just before Trump was impeached for a second time.
Read more here: Axios – More than half of Americans want Trump removed
11.53am GMT11:53
Stephen Collinson at CNN has offered this analysis this morning:
Trump's disastrous final days in office have brought the Republican Party to an existential moment. How GOP senators decide to deal with the strongman who bullied and manipulated them for five years will show whether their out-of-control party can revive its conservative soul or is destined to race into a conspiratorial, anti-democratic dead end.

The reaction to Trump's latest impeachment and acrimonious exit from office will wash across an uneasy, angry nation, traumatized by the Washington insurrection he inspired.

The tens of thousands of troops and security forces should be able to secure Biden's inauguration, but FBI warnings of uprisings in 50 states reflect the brittle atmosphere, which the trial could make even more tense.

The coming weeks will make clear whether the fury and radicalism inspired by Trump will recede when he is in internal political exile in Florida.Or they will reveal if something more serious is brewing.

The first-ever impeachment trial of an ex-president – in itself the final, surreal shattering of norms of the Trump era – will also go a long way toward deciding how quickly America's political institutions and the galvanizing role of truth in public life, which have both been under constant assault from the current President, can be rehabilitated.
Read more here: CNN – Trump's historic 2nd impeachment trial hangs over Biden and Republicans
11.49am GMT11:49
Here's a quick reminder of some of the defences of president Donald Trump that were given by Republicans in the House yesterday.
Rep. Jim Jordan (Ohio): "It's always been about getting the president, no matter what. It's an obsession, an obsession that has now broadened. It's not just about impeachment anymore, it's about canceling, as I've said. Canceling the president and anyone that disagrees with them."
Rep. Tom McClintock (California): "If we impeached every politician who gave a fiery speech to a crowd of partisans, this Capitol would be deserted. That's what the president did, that is all he did. He specifically told the crowd to protest peacefully and patriotically. And the vast majority of them did. But every movement has a lunatic fringe."
Rep. Matt Gaetz (Florida): "I denounce political violence from all ends of the spectrum, but make no mistake, the left in America has incited far more political violence than the right. For months, our cities burned, police stations burned, our businesses were shattered, and they said nothing. Or they cheer-led for it and fund-raised for it and they allowed it to happen in the greatest country in the world. Now some have cited the metaphor that the president lit the flame. Well, they lit actual flames. Actual fires."
11.35am GMT11:35

Sian Cain
The son of Captain America co-creator Jack Kirby has strongly condemned insurrectionists who stormed the Capitol last week wearing or brandishing symbols of the Marvel superhero, saying his father would have been "absolutely sickened" by the sight.
In a statement issued to CNN reporter Jake Tapper, Neal Kirby, 72, said he was "appalled and mortified" to see Trump supporters dressed in Captain America costumes or displaying his iconic star shield on 6 January. His father Jack, along with Joe Simon, created Captain America in 1941, with the comic's first issue famously showing the superhero punching Adolf Hitler in the face.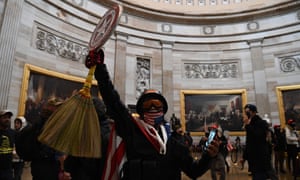 "Captain America has stood as a symbol and protector of our democracy and the rule of law for the past 79 years," Kirby wrote. "He was created by two Jewish guys from New York who hated Nazis and hated bullies. Captain America stood up for the underdog and, as the story was written, even before he gained his strength and process from Army scientists, always stood for what was righteous, and never backed down."
While watching footage of the storming of the Capitol on 6 January, he wrote, "I thought I noticed someone in a Trump/Captain America T-shirt! I was appalled and mortified. I believe I even caught a quick glance of someone with a Captain America shield. A quick Google search turned up Trump as Captain America on T-shirts, posters, even a flag!
"These images are disgusting and disgraceful. Captain America is the absolute antithesis of Donald Trump. Where Captain America is selfless, Trump is self-serving. Where Captain America fights for our country and democracy, Trump fights for personal power and autocracy. Where Captain America stands with the common man, Trump stands with the powerful and privileged. Where Captain America is courageous, Trump is a coward. Captain America and Trump couldn't be more different."
Read more of Sian Cain's report here: Captain America creator's son hits out at Capitol mob's use of superhero imagery