'Scotland, you are becoming a problem,' - how Eilish wrecked Kenyan dreams
Thursday 4th August 2022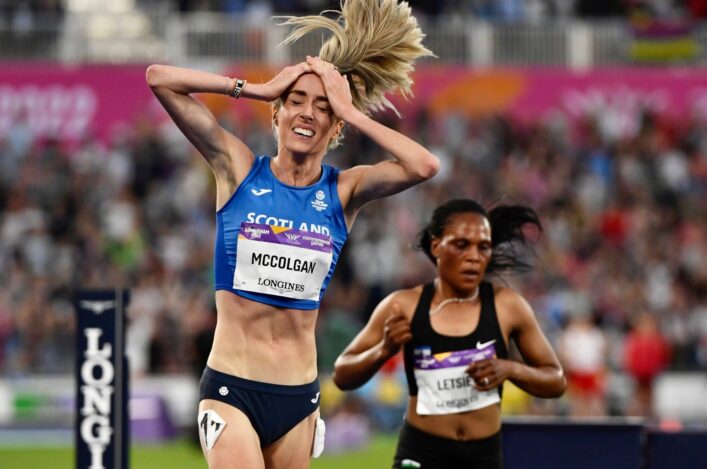 Moment of magic . . . Eilish McColgan can't quite believe the winning feeling (photo by Bobby Gavin)
BBC Sport coverage
By Peter Jardine, Head of Communications
The voice from the formidable Press Attache from Team Kenya carried audibly across the Mixed Zone – where media interview 'huddles' take place – in a corner of the awesome Alexander Stadium.
'Hey, Scotland, you are becoming a problem,' she laughed, gesturing towards the track, as Eilish McColgan patiently tracked the front runs of Irine Cheptai and Sheila Kiprotich.
There were 10 laps remaining in what was to become Eilish's race for the ages; the race of her life.
The tension ratcheted in stages over 25 laps, like any true sporting drama. With one 400m circuit remaining, BBC commentator Steve Cram stressed how gold and silver were up for grabs between the determined Scot and Cheptai.
'Patience required, strength required, speed required,' gasped Cram, as the athletes went through the bell.
In fact, it was still in the melting pot as they entered the final 100m. Somehow, Eilish managed to pull herself from a metre back to first alongside Cheptai and then ahead.
Over the closing stages she almost jumped across the line before hands went to head in disbelief. The margin of victory? Less than a second after close on 31 minutes.
Inside, the Team Scotland clothing, the kit design featured the printed motto 'Clear Heads, Brave Hearts'. Appropriate, or what?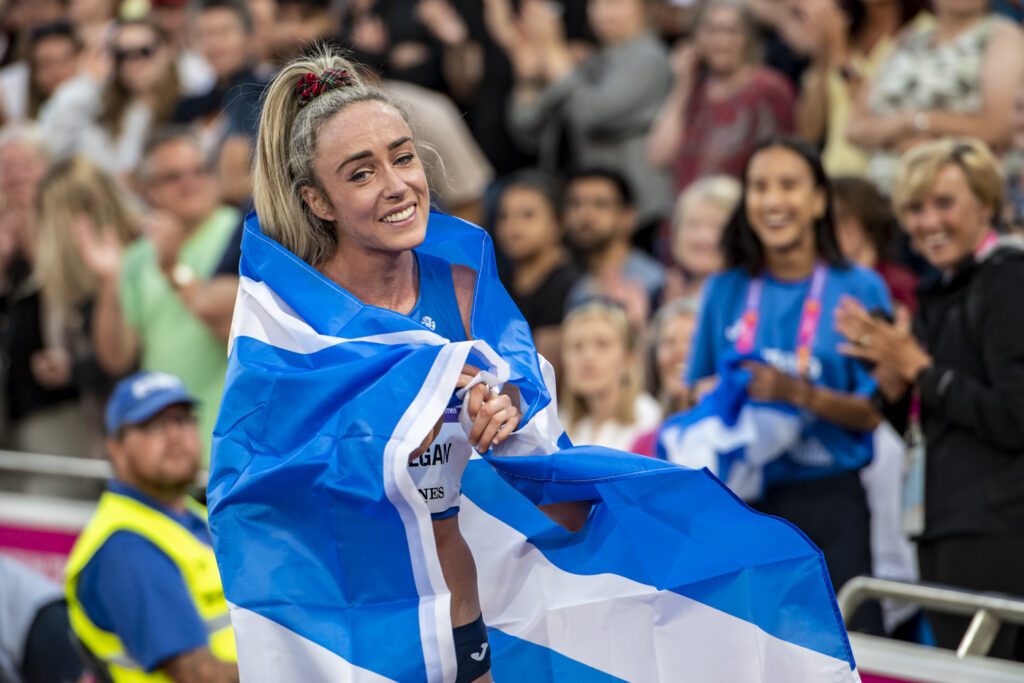 Eilish celebrates on her lap of honour and then with dad, Peter (below). Photos by Bobby Gavin
Later in conversation with both Liz McColgan and Eilish's partner and on-site and often on-the-bike coach, Michael Rimmer, the same themes emerged – this was the 'perfect race' that came to culmination after more than 10 years of hard work.
As long ago as 2011, Eilish was picked for GB and NI at U23 level in the steeplechase.
Following in the fabled footsteps of her mother must have seemed utterly impossible at that time. Liz, after all, won two Commonwealth Games golds, World Champs gold in 1991 and silver at the 1988 Olympics. It is the very definition of 'hard act to follow'.
'That's three Commonwealth 10,000m titles between us and I am beyond proud,' Liz told us.
'But Eilish has taken the Games Record tonight (with 30:48.60) so she is one up there! That was just a bonus to add to the gold.'
The reaction on social media was enormous. Our own channels buzzed with excitement and it's clear the feelings for those fortunate enough to be in the stadium were replicated in living rooms across the athletics community in Scotland.
Michael Wright of Central AC called it pretty well thus: 'This is a race which will be talked about 50 years from now.'
Tartan Running Shorts put it: 'Unreal to see a Scottish athlete take it to the east Africans and win. Talent, tactics, hard work and guts – Eilish had it all.'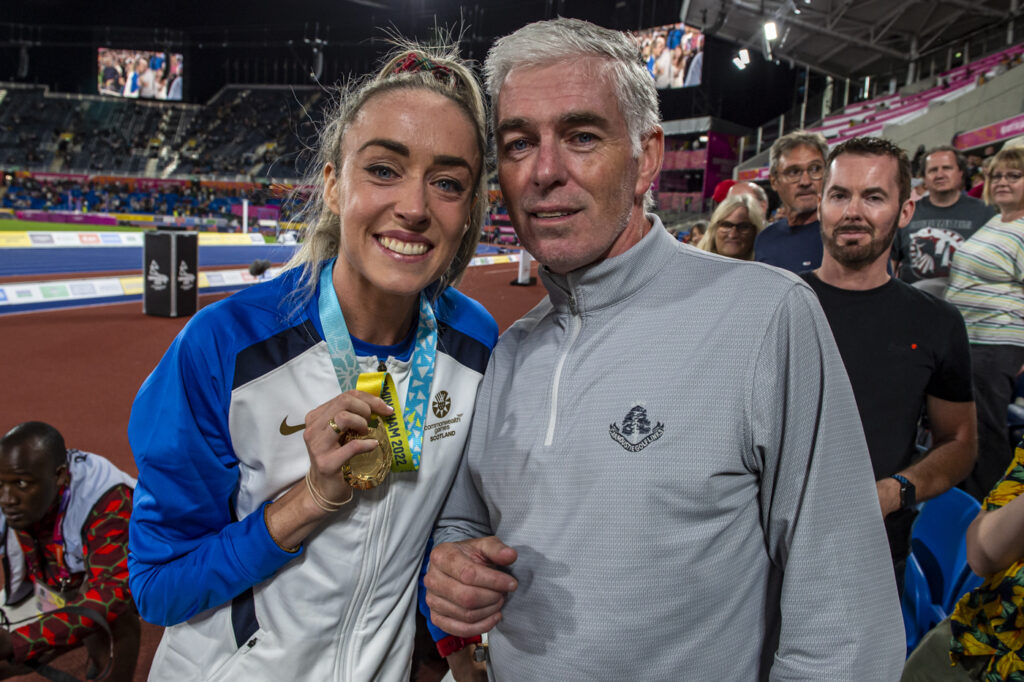 The champion herself would concur and was happy enough to admit Birmingham was a decade or two in the making.
'It's no secret I'm 31 and it is perfectly valid to say it has been a long time coming,' she said.
'I've been sixth in three other Commonwealth finals in the steeplechase in Glasgow and then the 5000m and the 1500m in Gold Coast.
'I've had to build my strength and my speed and there have been injuries and illnesses along the way. I was in great shape only a few weeks ago just prior to the Worlds but then picked up an illness in Oslo and had a hamstring niggle.'
Pre-race, that Liz, Michael and dad Peter McColgan had all emphasised the Commonwealth Games moment of opportunity.
'My dad said to me 'don't blow this chance now" smiled Eilish.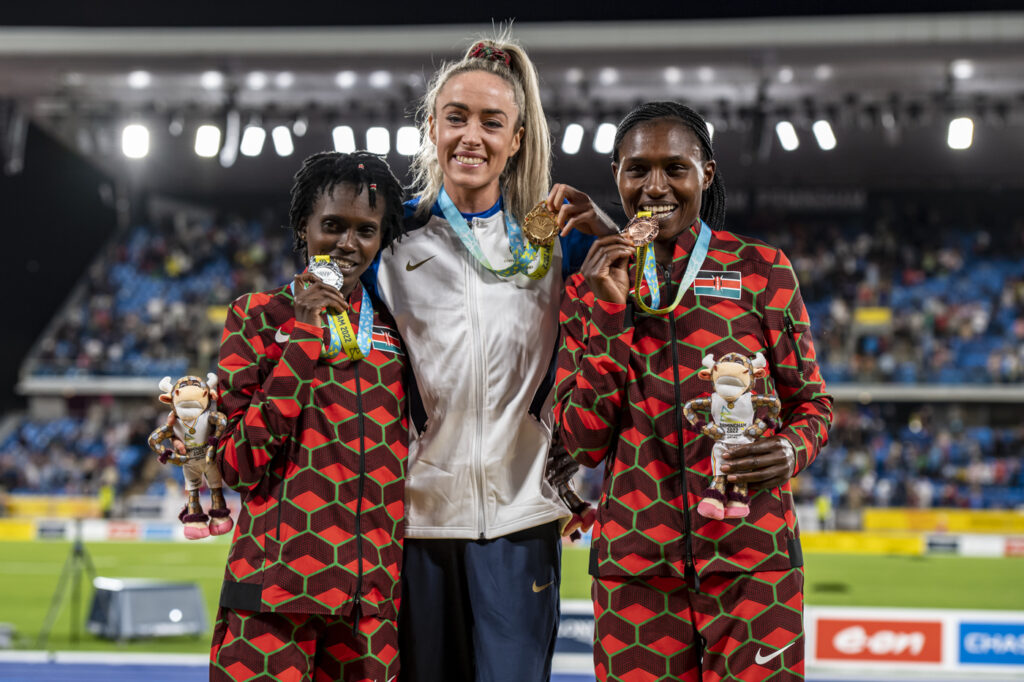 Podium moment for Eilish and Kenyan duo Cheptai and Kiprotich (photo by Bobby Gavin)
Eilish didn't and suddenly, just a fortnight after Jake Wightman claimed gold at the World Champs, she was front and centre in the Team Scotland kit.
'I don't think she had the outcomes she was looking for in Oregon and was really unlucky with her final preparations,' said Jake.
'It was thrilling to see her achieve that and the joy and excitement around the Team Scotland camp when she finished the race and later took to the podium was inspirational. We know how hard she has worked and how long she has waited.'
Even when a 10,000m race features a 100m sprint, it seems there are no short-cuts to success. It was the night 20 years in athletics came down to 20 seconds after 25 laps.
Jake, as he left that same stadium Mixed Zone barely 12 hours after Eilish, had to stop to sign autographs for Games volunteers: a consequence, presumably, of his World Champs victory in Oregon.
Scots will be stopping Eilish for Birmingham memories for half a century to come and asking for autographs and photographs. It is unlikely to be a problem.
Sorry, Kenya . . .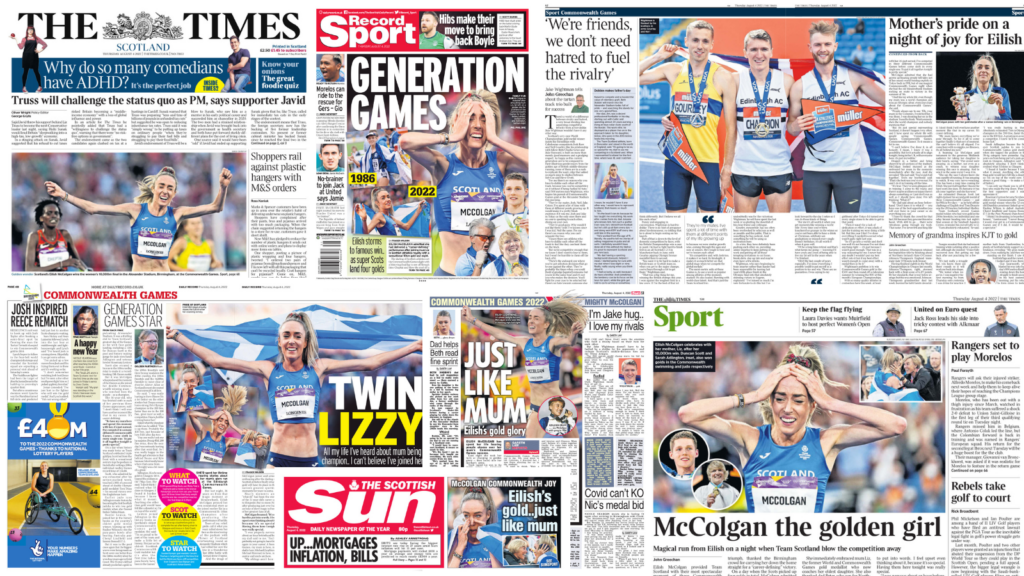 ????MOMENT OF GLORY????! Relive the moment @EilishMccolgan became Commonwealth Champion with a little GIF action by @Bobby_ThatOneMo [email protected] @dundeehawks @SALChiefExec @JomaSport @JomaSportUK @Team_Scotland pic.twitter.com/aRaqD7wMLn
— scottishathletics (@scotathletics) August 4, 2022
Tags: Alexander Stadium, Birmingham 2022, Eilish McColgan, Liz McColgan
Related Articles
Birmingham 2022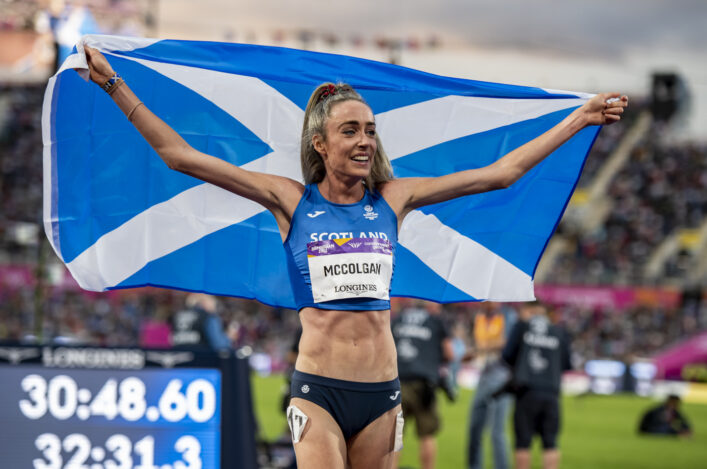 Birmingham 2022