Tamar Bridge: Journalists take on Children in Need trek
The brave duo will cross the bridge for a total of 10 hours.
A pair of reporters from the BBC participated in a ten-hour fundraiser for the charity Children in Need.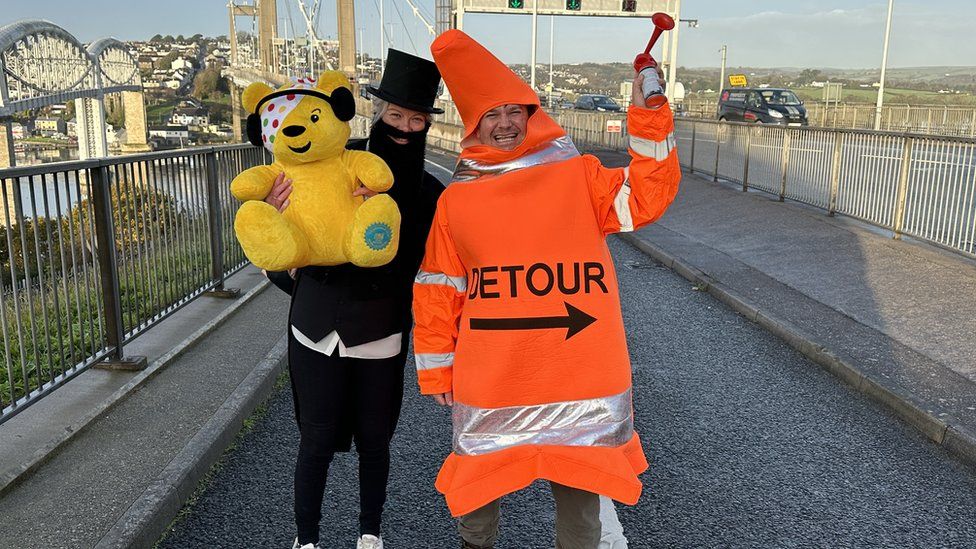 Angela Kalwaites and James Dundon, who work for BBC Radio in Devon and Cornwall, are currently strolling back and forth on the Tamar Bridge between 8:00am to 6:00pm Greenwich Mean Time.
This bridge spans over 1,100 feet (335 meters) and links the two neighboring counties together.
During the challenge, the two individuals have been guiding individuals towards the website of Children In Need to contribute funds.
Mr. Dundon is wearing a costume that looks like a traffic cone, and on the other hand, Ms. Kalwaites is using a beard to mimic the appearance of Isambard Kingdom Brunel. Brunel was the chief engineer who was involved in the construction of the Tamar.
The pair are wearing costumes depicting a traffic cone and the famed engineer Isambard Kingdom Brunel.
Mr. Dundon spoke on Friday morning right after introducing the challenge. He mentioned that cars were passing by quickly, and the sun was starting to peek through the clouds.
"If you happen to be crossing the Tamar Bridge today, there's an added bonus - you'll catch a glimpse of me dressed up as a traffic cone and Angela as the famous engineer, Isambard Kingdom Brunel."
Philomena Templeton and her furry companion Stanley had an unexpected encounter with reporters.
When Philomena Templeton and her furry companion Stanley were taking a walk on the bridge in Saltash, they were surprised to see the duo.
"I walk over the bridge around two or three times a week and I must admit, I've never witnessed something like this in support of Children in Need," she shared.
Mary Wells and Theresa Milne arrived with Pudsey bears to express their encouragement.
Meanwhile, Mary Wells and Theresa Milne went over to the bridge with the specific intention of supporting the impressive pair.
Ms. Wells is a big fan of Children in Need and expressed her belief that the minimum gesture they could make to support the cause was to show up, encourage the participants, offer them some cake, and show them that they have their support.
Goonhavern Primary School kids received a greeting from Pudsey.
Meanwhile, in the county of Cornwall, Pudsey, a popular bear mascot, accompanied a BBC team to visit Goonhavern Primary School in Cornwall. After that, they made their way to St Austell for their next destination.
Keep up with the latest news in the South West region by following BBC News South West on X platform (formerly known as Twitter), Facebook, and Instagram. Don't hesitate to send in your ideas for stories to [email protected].
"Further Details: The Story Continues"
External websites' content is not the responsibility of the BBC.
Read more