Canelo Alvarez forces Billy Joe Saunders to quit after the eighth round, wins WBO title
Alvarez is now one step closer to becoming boxing's first undisputed super middleweight champion of the world.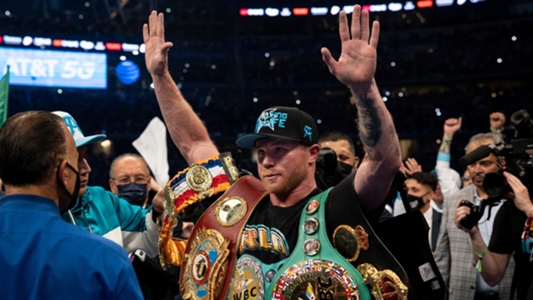 Canelo wins by TKO at the end of eighth
It's official. Alvarez's brilliance continues.
Saunders quits on his stool
Whoa! Saunders' right eye is practically swollen shut and he doesn't get up for the ninth round. This one's a wrap. Canelo wins, takes the WBO world super middleweight title and inches one step closer to being the undisputed 168-pound king.
Canelo-Saunders; Round 8
Canelo hunting for power shots, but missing. Still, he continues to move forward. A winding right hook connects with Saunders' body. Canelo brushes Saunders back with a right hook to the forehead. Saunders immediately covers up. The right eye of Saunders is swollen. And Canelo is rallying the crowd, telling the fans to let him hear it. He lands another power shot and again motions to the crowd to let him hear it. Saunders is definitely hurt from those shots. Right uppercut from Canelo connects flush now, too. His best round and Saunders must regroup. (10-9 Canelo, 78-74 Canelo)
Canelo-Saunders; Round 7
Very close fight so far. Saunders moving well, keeping apt space, while jabbing freely. Canelo with a big right hook to the body. He follows that with a left hook to the body seconds later. Canelo with a grazing right hook. Right hook connects for Canelo. (10-9 Canelo, 68-65 Canelo)
Canelo-Saunders; Round 6
Canelo with a short uppercut inside against the ropes. Saunders catches Alvarez with a straight left. Sharp boxing from Saunders. Quick short hook from Saunders on the inside during an exchange. Saunders now making Canelo miss. Saunders sticking his tonuge out after eating a right hook. Mind games similar to what friend Tyson Fury did to Deontay Wilder. Is the momentum shifting in Saunders' favor? (10-9 Saunders, 58-56 Canelo)
Canelo-Saunders; Round 5
Canelo swinging and walking Saunders down, catching him with some grazing shots. Nice double jab from Saunders. Left hook from Saunders moments later. Saunders' confidence growing this round. Canelo buries a body shot into Saunders' midsection, before the Brit covers up. Sharp round for Saunders. (10-9 Saunders, 49-46 Canelo)
Star-studded crowd
Tyson Fury, Demetrius Andrade and Errol Spenc Jr. among the fighters in the crowd.
Canelo-Saunders; Round 4
Saunders with a nice, crisp combo that might have surprised Alvarez. Canelo with a straight right hand that brushes Saunders back. Now, Saunders comes back with a combo, although his output mostly hits Canelo's gloves. Body shots from Canelo. He just misses with an uppercut, but goes back to the body. Canelo, now, lands the uppercut and Saunders' mouthpiece almost goes flying! A good round for Saunders; just better for Canelo. (10-9 Canelo, 40-36 Canelo)
Canelo-Saunders; Round 3
Canelo is feinting and moving forward. Saunders is biting on Canelo's feints. Right hand blasts Saunders' jaw. Best punch of the fight early on. Saunders invites more. Left hook grazes Saunders moments later. Saunders does sneak in a sharp left at the bell. (10-9 Canelo, 30-27 Canelo)
Canelo-Saunders; Round 2
Saunders is flicking out that right jab. Canelo is working through it, advancing forward. Alvarez has thrown the right uppercut twice and come up empty with it. Canelo connects with a straight right hand on the jaw. They clinch. A short right from Canelo follows. Canelo punches through Saunders' output and lands to the chest. Canelo digs two uppercuts into Saunders' body. Those will be major as this fight progresses. Plenty of crisp movement from Canelo so far. (10-9 Canelo; 20-18 Canelo)
Canelo-Saunders; Round 1
Saunders is already trying to assert his ring generalship with his wide southpaw stance. He's pumping the right jab. Canelo deposits a short left hook to the body before digging an uppercut into the British fighter seconds later. Canelo is walking down Saunders now. Saunders with a jab to the body. Heavy body shot from Canelo. A good feel-out round for both. (10-9 Canelo)
Seconds away
Both world champs have been introduced, they touch gloves and here we go!
AT&T Stadium crowd announced
Michael Buffer announces the crowd as 73,000-plus.
And here comes Canelo
A full mariachi band helps usher in the entrance of Alvarez, the unified WBA (Super), WBC, and The Ring super middleweight champion of the world. AT&T Stadium is losing its mind! Canelo is really taking his time with this ring walk, probably to freeze Saunders up and give the British fighter some mind games of his own to deal with.
Here comes Saunders
The confident, undefeated WBO world super middleweight champion is making his way to the ring. But not before soaking up every second of this entrance, dancing on top of the ramp at AT&T Stadium and sauntering his way into the ring.
Canelo with last-minute work Tyson Fury doubles down on friend Saunders
"I know what he's capable of, I know what he can deliver, I know what he can do," Fury tells DAZN's Chris Mannix backstage about Saunders, adding that the WBO super middleweight champion will relish in upsetting Canelo tonight.
Main event time!
Will Canelo get one step closer to becoming an undisputed super middleweight champion of the world or will Saunders deliver a career-defining performance and prove his own greatness? We're about to find out, as this main event is minutes away.
Soto retains title with the ninth-round TKO
Although we can't agree with the stoppage, Soto did land the more stinging, impactful shots, wobbling Takayama on more than one occasion. He did what he had to do.
Takayama had only been stopped once in 40 fights prior to tonight. And he showed the crowd that he had plenty of fire left.
Soto-Takayama; Round 9
Clean punching from Soto. Right hand to the temple wobbles Takayama, who somehow continues to move forward. He's eating punches and moving forward. Soto tags him a couple of times more, but Takayama continues to move forward. The ref steps in and stops it! Whoa! Takayama did take punishment over the course of the fight but was game throughout. I don't agree with the timing of that stoppage, especially in a world title fight. 
Takayama is clearly disappointed, but shadow boxes for a few seconds to get a pop from the crowd, which definitely respects the Japanese fighter.