Tokyo 2020 Olympics: athletics blasts off, swimming and more – live!
Rolling report: Join our writers for all the latest news and action in Tokyo, as the track and field begins in Japan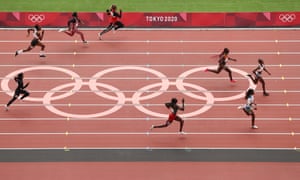 Key events
Show
1.42am

BST

01:42

NZ's Emma Twigg wins gold in the women's single sculls

12.00am

BST

00:00

Preamble
Live feed
Show
1.55am BST01:55
France are through as Group B winners in the women's sevens. They saw off Canada in a 75% Francophone battle.
1.53am BST01:53
A thrilling finish with three rowers all in a shout for gold in the last 500m. But it's Greece's Stefanos Ntouskos who pulls clear in the final stages. Norway's Kjetil Borch gets second and Croatia's Damir Martin is third. That's Greece's first-ever rowing gold.
Updated at 1.59am BST
1.46am BST01:46
We've had the women's single sculls final so logic dictates we now have the men's. Mindaugas Griskonis of Lithuania, Croatia's Damir Martin, Norway's Kjetil Borch, Greece's Stefanos Ntouskos, Sverri Nielsen of Denmark and ROC's Alexander Vyazovkin are your gladiators. Water gladiators. With no swords. Or those trident and net things.
Updated at 1.53am BST
1.42am BST01:42
NZ's Emma Twigg wins gold in the women's single sculls
New Zealand's Emma Twigg has too big a lead in the closing stages for ROC's Prakatsen to catch her. Austria's Logbnig wins bronze just ahead of GB's Thornley.
1.39am BST01:39
500m to go and Twigg still has the lead - and it's a big one. Prakatsen is second and is a fast finisher. Twigg's lead is 2.5sec. Lobnig is third.
1.38am BST01:38
At the halfway point it's still NZ's Twigg with a healthy lead over Austria's Lobnig and then Jiang Yan of China. The TV commentary team tell me Twigg has a tendency to fade late. GB's Thornley looks well out of the medals.
1.35am BST01:35
It's an experienced field: Hanna Prakhatsen is the only woman under 30 in the race. Twigg of New Zealand gets out to a quick start along with Lobnig of Austria. Twigg leads at 500m followed by Lobnig and Gmelin of Switzerland.
1.31am BST01:31
We have a medal race coming up in the rowing. It's the women's single sculls and your start list is:
1) Jiang Yan (China)
2) Jeanine Rosanna Gmelin (Switzerland)
3) Hanna Prakhatsen (ROC)
4) Emma Twigg (New Zealand)
5) Victoria Thornley (GB)
6) Magdalena Lobnig (Austria)
Hanna Prakhatsen will be strong for ROC but NZ's Emma Twigg has a decent chance of a medal ... and possibly a gold.
1.23am BST01:23
Fiji need a win against Brazil to make it the quarter-finals of the women's rugby sevens (the men's team won gold a few days back). And it's safe to say they're going to make it: they're 41-5 up with a a minute or so left.
1.19am BST01:19
The final heat of the women's 100m preliminaries. Antigua's Joella Lloyd wins in 11.55sec , followed by Malawi's Asimenye Simwaka and Indonesia's Alvin Tehupeiory. Malta's Carla Scicluna creeps in to the next round as the fastest loser by 0.01 seconds. Phew. The first round proper is in a few hours.
1.11am BST01:11

Kieran Pender
I'm at the pool for the third-last day of swimming competition at Tokyo 2020. I'd be lying if I didn't admit it was beginning to feel a little like groundhog day: hotel - pool - hotel - repeat. But we've had excitement at every turn - dominant winners, unexpected medallists and the odd controversy along the way. So no complaints from me.
This morning we have four gold medals on offer, and the highlight, at least from an Australian perspective, will be the blue riband women's 100m freestyle. Emma McKeon broke the Olympic record in qualifying and Cate Campbell will swim next to her in lane three. But over such a short distance, anything can happen - Hong Kong's Siobhan Haughey has had a good meet, while Canada's Penny Oleksiak is looking strong. A must-watch.
1.03am BST01:03
And the athletics has started. The first event is the women's 100m preliminary round. The big guns will not compete in this round - they come in in the next round. Three from each heat in this preliminary round go to the first-round proper. Natacha Ngoye of Congo, Maggie Barrie of Sierra Leone and Amya Clarke of St Kitts and Nevis all make it through to the next round. The winning time was 11.47 seconds.
Updated at 1.05am BST
12.54am BST00:54
You may have noticed there's not much live sport here at the moment. And that's because there's not much going on before the start of the athletics in around 10 minutes. But we do have some results! Kazakhstan's Vladislav Yakovlev has just won the D final in the men's single sculls, he beat Zimbabwe's Peter Purcell-Gilpin by 0.48 seconds.
In men's golf, Chile's Guillermo Pereira is off to a hot start and is three under for the round after six holes. That's moved him up to fifth overall. Second placed Jazz Janewattananond of Thailand is the only one of the first-round leaders in action at the moment. He's on par through four holes and is still in second place.
12.44am BST00:44
Dina Asher-Smith will start her campaign today. The sprinter is attempting to do what no British woman has done before: win Olympic gold over 100m or 200m. Here's Sean Ingle on an extraordinary athlete:
When Dina Asher-Smith ran her first cross-country race in primary school she hated it so much she nearly stopped – only for her parents to bribe her with an ice cream to keep going. It worked – and then some. Asher-Smith ended up sprinting through the field to finish fifth out of 400 and a glittering athletics career was born.
Now, at the age of 25, Asher-Smith has accumulated an athletics CV to die for. It includes five world championship medals – including world 200m gold and 100m silver in Doha in 2019 – as well as a 4x100m bronze at the Rio Olympics and numerous British records. Now she is at her peak and seeking to achieve what no British female sprinter has accomplished before: win Olympic gold over 100m or 200m.
"I'm in good shape, I'm actually in really, really good shape so I'm really excited," she says when asked whether she can make history. "And I'm a championship performer."
She will have to be. On paper, her biggest rivals have all gone faster than her in 2021. In the 100m, for instance, the world champion Shelly-Ann Fraser-Pryce has run 10.63sec, making her the second quickest woman ever behind Florence Griffith Joyner – while the reigning Olympic champion Elaine Thompson-Herah recently flew home in 10.71sec. But races are not won on paper.
You can read the full article below:
12.33am BST00:33
A big day for Australia at the Olympics. Going for gold in the pool are Emma McKeon and Cate Campbell, while the Matildas seek a place in the women's football semi-finals and the track and field competition begins. For a full rundown of Aussies in action try our handy guide:
And seeing as we've covered the Aussies, here are highlights for the Americans.
9.41pm EDT: women's 200m breaststroke final
Americans Lilly King and Annie Lazor both qualified for the final, though it's unlikely anyone will top South Africa's Tatjana Schoenmaker, who on Thursday posted the best semifinal time by more than a second. King is coming off a bronze in what was her signature event, the 100m breaststroke; both she and Lazor, a 26-year-old first-time Olympian who won this event at the US trials, should be in the running for silver or bronze.
9.50pm EDT: men's 200m backstroke final
Ryan Murphy, who took gold in both the 100m and 200m backstroke events in Rio de Janeiro, finished with the third fastest time in the semifinals Thursday, and he's a strong medal contended in a race where Russia's Evgeny Rylov is favored. Murphy won bronze Wednesday in the 100m event, where he holds both the world and Olympic records, finishing .21 seconds behind Rylov's first-place time.
9.59pm EDT: women's 100m freestyle final
Abby Weitzeil, a specialist in the freestyle sprint events, will compete in lane 1 in the 100m freestyle final; but don't let that positioning color your view of her changes. Weitzeil, who's won three Olympic medals in relays (two in Rio and one in Tokyo), and she now has a shot at her first individual hardware. The semifinal yielded a tight field; Aussie Emma McKeon set an Olympic record in the semifinal, but Weitzeil finished just .67 seconds slower and is very much within reach of a medal.
2am EDT: men's doubles tennis bronze medal match
USA's Tennys Sandgren and Austin Krajicek face off against Marcus Daniell and Michael Venus of New Zealand in the bronze medal match after falling to Mate Pavic and Nikola Mektic of Croatia – the reigning Wimbledon champions – in the semifinal round. This is the first Olympics for both of the Americans, who are ranked No 48 in the world (Krajicek) and No 208 (Sandgren), and they control the US's last remaining chance to medal in tennis in Tokyo.
1am/3am EDT: men's kayak semi-final and final
One American, Michal Smolen, qualified for the men's kayak semifinal, and he'll be the second boat to start on Friday in Tokyo. Smolen, who was born in Poland and is the son of a canoer (his father, Rafal) and handball player (his mother, Agnieszka), both of whom represented Poland in international competition. Smolen's family emigrated to the US, and he began canoeing when he was 10. Smolen is one of 20 athletes to make the semifinal, and he'll need a top-10 time to advance.
12.23am BST00:23
I, for one, am very excited about the early heats of the athletics. The worst runners at the Olympics are waaaaay faster than you (unless Usain Bolt is an unexpected fan of the Guardian's liveblog). And when you see them in the early heats? They are crushed by the top sprinters. So what would those athletes do to you, mortal? It reminds me of this clip of members of the public confidently predicting they could beat NFL players in a 40-yard dash. With predictable results:
12.14am BST00:14
The golfers are the first out for the day, enjoying a casual round at the Kasumigaseki Country Club. A reminder of the leaders after round one - and they're not exactly giants of the game. Sepp Straka of Austria leads at -8; Thailand's Jazz Janewattananond is-7, while Belgium's Thomas Pieters and Mexico's Carlos Ortiz are -6.
12.00am BST00:00
Preamble
Hello! The athletics/track and field starts today as the end of the swimming looms into view (it's not over just yet though). Here is my colleague Martin Belam with what's hot and what's also hot today at the Games:
All events are listed here in local Tokyo time. Add an hour for Sydney, subtract eight hours for Glasgow, 13 hours for New York and 16 hours for San Francisco. Confused? Surely not by now.