Aston Villa v Manchester United: Premier League – live!
Minute-by-minute report: Can Manchester United keep the title race alive with a win at Villa Park? Find out with Niall McVeigh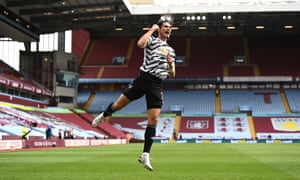 Key events
Show
3.55pm

BST

15:55

Red card! Ollie Watkins is sent off

3.53pm

BST

15:53

GOAL! Aston Villa 1-3 Manchester United (Cavani 87')

3.22pm

BST

15:22

Aston Villa 1-2 Manchester United (Greenwood 56')

3.17pm

BST

15:17

GOAL! Aston Villa 1-1 Manchester United (Fernandes pen 52')

3.16pm

BST

15:16

Penalty to Manchester United!

3.10pm

BST

15:10

The second half is go!

2.54pm

BST

14:54

Half time! Aston Villa 1-0 Manchester United
Live feed
Show
3.59pm BST15:59
93 mins: We're going through the motions here, if I'm honest. United will go 12 points clear of West Ham, so Champions League football next season will be officially sealed unless the Hammers beat Everton.
3.57pm BST15:57
90 mins: Six minutes of injury time as the game turns spectacularly away from Villa. Henderson pulled his foot away, and Watkins wouldn't have kept the ball in play, so it wasn't a penalty for me. It wasn't a particularly egregious dive either, with replays not clarifying if there was contact – that's a bold call from the referee.
3.55pm BST15:55
Red card! Ollie Watkins is sent off
This is a strange one. Watkins, booked for a foul on Maguire in the first half, runs through on goal and flicks the ball away from Henderson. It looks like Chris Kavanagh has given a penalty – but instead, he hands Watkins a second booking for simulation!
3.53pm BST15:53
GOAL! Aston Villa 1-3 Manchester United (Cavani 87')
This is so clever from Edinson Cavani, who lingers out wide as Luke Shaw's shot is charged down. When Fred finds Rashford on the other flank, he makes his move – surging towards the near post and flicking his header past Martinez. Game over!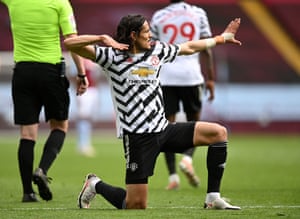 Updated at 3.55pm BST
3.51pm BST15:51
86 mins: Matic is on for Fernandes, whose penalty got United on level terms before Greenwood's goal. Cavani's shot is blocked by Matty Cash, the striker appealing for a handball. Not given, but it won't matter ...
3.49pm BST15:49
84 mins: Targett's shot can't find a path through a thicket of United defenders. Villa are effectively playing with four forwards, so it's no surprise to see Nemanja Matic summoned from the United bench.
3.48pm BST15:48
82 mins: Keinan Davis, operating alongside Wesley up top with Watkins drifting to the left, finds space inside the United area. Rather than go for goal he tries to pick out Watkins, who is closed down.
3.47pm BST15:47
81 mins: Traoré jinks this way and that before drilling a low cross that Bailly scrambles away. A United counter is snuffed out by John McGinn, putting in a tireless, almost Waltzian shift in midfield.
3.45pm BST15:45
80 mins: With Davis and Wesley waiting for the cross, John McGinn instead picks out Traoré, whose downward header is never troubling Henderson.
3.42pm BST15:42
77 mins: Harry Maguire trots back on, but very quickly drops back to the turf, rolling his left sock down and wincing. Eric Bailly comes on in his place. For Villa, Keinan Davis and Wesley are on, replacing El Ghazi and Barkley, who wasn't at his incisive best today.
3.39pm BST15:39
75 mins: Maguire, a defensive ever-present in the league this season, is ushered to the touchline and looks a doubt to continue. In the meantime, Barkley hooks his free kick high and wide of goal.
3.38pm BST15:38
West Ham v Everton is coming up next: John Brewin has events at the London Stadium covered.
3.37pm BST15:37
72 mins: Some less impressive defensive work from Cavani, losing the ball and tripping El Ghazi, who collided with Maguire as he went over. The United captain will need treatment after taking a hefty blow.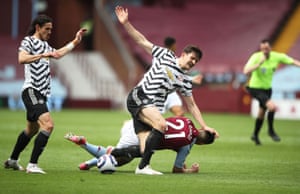 Updated at 3.44pm BST
3.35pm BST15:35
"What's the most times a team has been 45 minutes away from winning the Premier League?" wonders Phil Grey. It does feel like Groundhog Day for Manchester City after yesterday's shenanigans.
3.33pm BST15:33
68 mins: Wan-Bissaka races across to stop the ball going out for a corner, but succeeds only in passing it straight to Matt Targett. His cross is nodded back across goal – but Cavani uses his aerial instincts well, moving to the far post to head it away!
3.32pm BST15:32
67 mins: Maguire is booked for holding on to Watkins – who was booked in the first half for a clumsy foul on Maguire. The free-kick is swung in, and flicked away by Lindelof ...
3.30pm BST15:30
66 mins: Jacob Ramsey comes on in place of the hapless Douglas Luiz, whose brain-fade allowed United to start turning the game around.
3.29pm BST15:29
64 mins: Edinson Cavani is coming on, replacing goalscorer Greenwood. Having seen a replay of the possible handball, Greenwood was spinning on the edge of the area, the ball fired at him by Douglas Luiz. It would have been incredibly harsh to give that.
3.26pm BST15:26
60 mins: Villa aren't out of this yet! El Ghazi gets in behind and causes a flurry of panic with his ball back across goal. It's worked back to Targett, and Maguire throws his head in the way of the cross, but Traoré's shot still forces a save from Henderson. From the corner, there's a big Villa shout for handball against Greenwood, but no dice, despite a lengthy VAR check as play continues.
Updated at 3.28pm BST
3.24pm BST15:24
59 mins: Tensions boil over between Konsa and Rashford after a penalty-box battle, the Villa defender having to be hauled away before losing his rag altogether. From the corner, Maguire heads wide.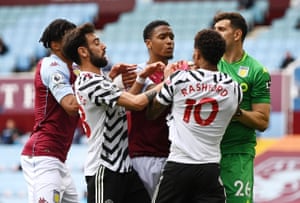 Updated at 3.31pm BST
3.23pm BST15:23
A rapid turnaround from United, and credit to Mason Greenwood for taking the chance so clinically – but Mings was uncharacteristically weak with his challenge, and Martinez might feel disappointed by getting beaten at his near post.
3.22pm BST15:22
Aston Villa 1-2 Manchester United (Greenwood 56')
And now they lead! Wan-Dissaka drifts in from the right and slips a pass to Greenwood, who turns Mings with unacceptable ease before firing a low shot beyond Martinez!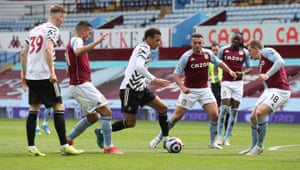 Updated at 3.29pm BST
3.19pm BST15:19
55 mins: Traoré gets into space down the right, but dallies for too long and United get numbers back. United currently on course for another point earned from behind ...
3.17pm BST15:17
GOAL! Aston Villa 1-1 Manchester United (Fernandes pen 52')
Bruno Fernandes steps up. Panenka, anyone? No, a stutter-step run-up, and a cool finish to Martinez's left. The City champagne is back on ice!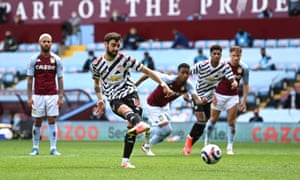 Updated at 3.23pm BST
3.16pm BST15:16
Penalty to Manchester United!
United counter, and Pogba holds the ball up in the area. Douglas Luiz does well to shepherd him away from goal, then inexplicably lunges in with no chance of getting the ball. That's a penalty.
3.14pm BST15:14
49 mins: McGinn plays a through ball to Barkley, who looks a yard offside. He cuts it back to El Ghazi, whose shot tests Henderson at his near post ...
3.13pm BST15:13
47 mins: Fernandes rolls the ball to Pogba, whose shot from the edge of the area balloons behind off Mings. United corner, punched clear by Martinez before Pogba's cross is cut out by the rock-solid Ezri Konsa.
3.11pm BST15:11
46 mins: Shaw looks aggrieved after getting whistled trying to win the ball high up the pitch. Another reminder: United are the league's leading second-half scorers.
3.10pm BST15:10
The second half is go!
Villa get it started. Reminder: if the hosts hold on and win, Manchester City are champions – and a draw means United's faint hopes would be purely mathematical. Long way to go, of course.
3.05pm BST15:05
Here's our report from Wolves 2-1 Brighton, for your consideration.
3.04pm BST15:04
"Waltzy's had a great season," says Matt Dony, game recognising game. "She's a top, top contributor. I'm sure she's saved something in the tank for this brutal run-in."
3.03pm BST15:03
"It would be typical of this underwhelming season if United follow City's defeat yesterday with one of their own, thereby handing City the title in rather downbeat circumstances," writes Rick Harris.
2.54pm BST14:54
Half time! Aston Villa 1-0 Manchester United
It's a fine effort, steered firmly towards the bottom corner, but Henderson gets down well to keep it out. And that's half time! City are 45 minutes from the title, but you feel Villa may need another to hold off United's customary fightback.
Updated at 3.03pm BST
2.53pm BST14:53
46 mins: United play it out and Watkins tries to pinch the ball from Maguire, clattering the defender over like an over-excited puppy. He's booked, but Villa resume their high press and Watkins has a chance to shoot ...
2.52pm BST14:52
45 mins: One added minute, and Villa pour forward, Matty Cash injecting some urgency. Traoré's cross doesn't connect, drifting behind for a goal kick.
2.50pm BST14:50
44 mins: Konsa is playing on after getting some physio treatment and emptying an entire bottle of water over his head. It does look a little warm at Villa Park, to be fair.
2.49pm BST14:49
42 mins: The impressive Konsa nods Wan-Bissaka's cross away with Fernandes lurking – if a little mismatched, height-wise. Konsa lands awkwardly and stays down holding his knee, which is a concern.
2.47pm BST14:47
41 mins: United come again, Fernandes looking for options on the right-hand corner of the Villa area, then driving to the byline and crossing at pace. Martinez parries it out, and Konsa has to move smartly to make a two-touch clearance a yard from his own goal.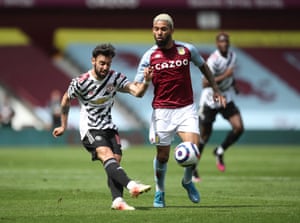 Updated at 2.52pm BST
2.46pm BST14:46
39 mins: Fernandes tees up Rashford, whose shot from 20 yards is well-struck, but straightforward enough for Martínez.
2.45pm BST14:45
37 mins: Having been rocked back by the opening goal, United are building some momentum again. They've won 28 points from losing positions this season, which is frankly a bit ridiculous.
2.43pm BST14:43
"I would love to think that I have something to save for my beloved Everton," says Mary Waltz (see 14.10)." I fear that that much like the Toffees' season, I may be running out of bullets. I will attempt to rise above mid table mediocrity, I hope my boys do the same."